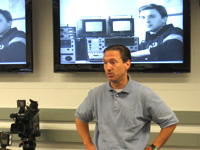 1989 Drake Radio-TV graduate Glen Biermann, urged this semester's Field Photography class to take pride in their interview lighting.
Biermann, a regular visitor to the junior-level class required for Electronic Media students, serves KCCI (TV), Des Moines, as a staff photographer.
The National Murrow Award-winning photojournalist told students appropriate lighting need not require much extra time to set up, but the effort shows sources you care that they look as good as possible on camera.
Biermann brought his light kit and professional camera to demonstrate variations of interview lighting, from an on-camera lamp to more creative approaches.
He also "grilled" students over the assigned reading for the day that covered "everything lighting," from color temperatures to exposures to eyeglass reflections. He also showed recent examples of some favorite stories aired on "Iowa's News Leader."