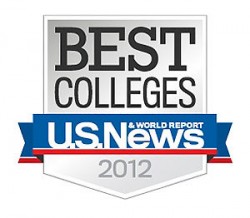 Drake University improved its overall ranking to stand alone in third among Midwest master's universities in the U.S. News Best Colleges 2012 rankings released today by U.S. News & World Report magazine. Additionally, the University's 2010 acceptance rate of 65 percent made it the most selective among the top ten universities in its region."We are delighted to be recognized as one of the nation's finest institutions in both academic quality and selectivity," said Drake President David Maxwell. "Even with our improved standing, it is important to note that high placement in these rankings is not a goal we strive toward. Rather, it is a consequence of our efforts to provide the exceptional learning environment that we promise our students."
Drake's score for academic quality (peer assessment) stands at 3.9 on a five-point scale. Only two of the 146 Midwest universities that provide a full range of undergraduate and master's programs scored higher than Drake did in this category. Among the nation's 574 master's universities ranked in the report, Drake placed in the top ten in this category.
In the "Great Schools, Great Prices" category, Drake placed ninth. This is the 12th consecutive year Drake has been listed in this category.
The rankings also show that the academic profile of students in Drake's entering class continues to improve. The percentage of entering students in the top 25 percent of their high school class rose to 74 percent, up from 69 percent just three years ago. Drake's acceptance rate for entering students narrowed to 65 percent, from 78 percent three years ago. Drake's student selectivity ranking—which takes ACT scores, students' high school academic rankings, and the acceptance rate into account—rose to second in the region from fourth.
"It is wonderful that we continue to draw such extraordinary students to Drake during trying economic times. We commend our students and their families for seeking value, as well as quality, when deciding on a university experience," said interim Drake Provost Susan E. Wright. "Drake's outstanding faculty and staff are committed to creating an exceptional learning environment."
For the first time in these rankings' history, more than half (51 percent) of all Drake classes have fewer than 20 students. Only 6 percent of classes offered at the University contain more than 50 students. The University is equally proud to maintain an overall student to faculty ratio of 13:1.
"The opportunity for students to work collaboratively in small groups and one-to-one with our faculty in research laboratories and studios, and to gain real-world experience through guided internships, is exactly the preparation they need for today's world," Wright said.