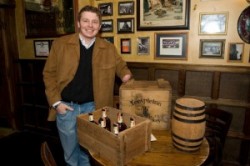 Scott Bush
Drake University's fall 2011 Let's DU Lunch speaker lineup includes plenty of "the good stuff." The series will kick off on Wednesday, September 7, with a presentation by Scott Bush, founder and president of Templeton Rye Spirits.
Bush's presentation will focus on his family's history of bootlegging entrepreneurialism and his personal background in venture capital investments and banking.
Prior to launching Templeton Rye Spirits, Bush spent six years as an analyst with JPMorgan Chase in Chicago and New York. He also worked for Boston-based CommonAngels, a business and technology investor network. He received his bachelor's degree from the University of Iowa and his master's degree from the Massachusetts Institute of Technology Sloan School of Management.
The series will continue with the following presentations:

Wednesday, October 5: Susan Moritz, president of the Iowa Public Television Foundation, will discuss the new realities of public media.
Wednesday, November 2: Jean Groben will deliver a lecture on the challenges and rewards of operating and owning Jasper Winery, a Newton-based winery that utilizes Iowa-grown grapes.
The events, sponsored by Drake University and the Greater Des Moines Partnership, will be held at the Des Moines Club on the 34th floor of the Ruan Building, 666 Grand Ave. Networking begins at 11:30 a.m. Lunch and the presentation run from noon to 1 p.m.
Each luncheon costs $17; a ticket package to the entire series costs $42. There is a special young professional rate of $13 per luncheon for those aged 35 and under.
Registration is highly recommended due to limited seating. To RSVP, visit www.alumni.drake.edu/letsdulunch. For more information, contact the Office of Alumni and Parent Relations at 515-271-2500.