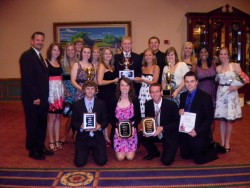 Drake University Phi Delta Chi chapter with awards
The Drake University Psi chapter of the Phi Delta Chi professional pharmacy fraternity recently received the Emory W. Thurston Grand President's Award. The national award is the fraternity's highest honor and recognizes exemplary service to the pharmacy profession.
"This is the Psi chapter's fifth Thurston Cup in the last 11 years," said Charles Phillips, professor of pharmacy administration and assistant dean of assessment. "The students involved in Psi are a tremendous group of individuals who continue to make a difference in the community and in the pharmacy profession."
Phi Delta Chi consists of 71 chapters nationwide. At the fraternity's 68th Grand Council meeting held in Buffalo, N.Y., the Drake Pharmacy chapter received several other awards recognizing its commitment to professional development, service and academics:

The Prescott Scholarship Cup – First Place
The Professional and Service Projects Award – Second Place
The Chapter Publication Award – Second Place
The Professional Window Display Award – Third Place
St. Jude Children's Research Hospital also honored Drake's chapter at the meeting, acknowledging Psi as Phi Delta Chi's highest fundraiser. This past year, Drake Psi's "Prescription for Hope" benefit raised more than $22,000 — exceeding twice the amount of any other chapter.
"Each of these awards is a huge honor for our chapter and, we hope, for Drake's College of Pharmacy and Health Sciences," said Jaclyn Stoffel, a first-year student in the professional pharmacy program and incoming president of Psi. "The success of our chapter has only inspired us to keep growing so that we can better serve our school and our community."