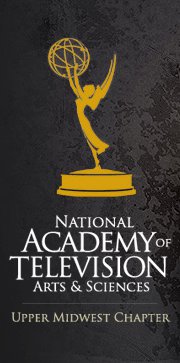 Two television programs created by Drake students have been nominated for 2011 Student Television Awards for Excellence (Regional Emmys) by the National Academy of Television Arts & Sciences Upper Midwest Chapter.
They are DrakeLine and Beyond the Blue Line.
Winners will be announced August. 20 in Minneapolis. Find out who wins by following the Upper Midwest Emmys on Twitter or Facebook.
See a list of all the nominees here.
DrakeLINE
Jessica Nguyen – Producer
Aaron Gernes – Associate Producer
Colin Coomer – Director
Abraham Swee – Reporter
Matt Shattuck – Reporter
Jess Hoffert – Reporter
Ciera Lundgren – Reporter
Maureen McKamey – Reporter
Stephanie Sanyour – Reporter
Kayleigh McCullough – Reporter
Lindsay Smith – Chyron/Graphics Producer
John Lytle – Advisor
Beyond the Blue Line
Rebecca Altenhofen – Producer
Rachel Yancey – Producer
Maggie Sutton – Associate Producer
Lauren Staller – Editor
Eamonn Cogan – Lead Videographer
Todd Evans – Advisor