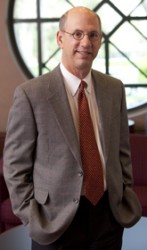 Matthew Doré
Matthew Doré, the Richard M. and Anita Calkins distinguished professor of law at Drake University, recently received the Iowa State Bar Association (ISBA) Outstanding Section Chair Award.
At the association's annual meeting in June, Doré accepted the honor
in recognition of his service over the last two years as head of the
ISBA's Business Law Section.
"It has been a privilege to lead the ISBA Business Law Section over
the past two years," says Doré, a member of the Drake Law School faculty
since 1992. "Serving on the Section brings me in contact with business
lawyers from across the state of Iowa. Section activities help keep me
current on issues of concern to business law practitioners and also
inform both my classroom teaching and my research agenda at Drake."
During Doré's two-year tenure as chair of the ISBA's Business Law
Section, the Section organized a variety of continuing legal education
opportunities for members, completely revised the ISBA Business Law
Manual and advised the Iowa legislature on the adoption of several new
business entity laws.
Doré is the author of a two-volume treatise on Iowa business
organization law, and his scholarly articles have been published in the
U.C. Davis Business Law Review, the Drake Law Review, the Brooklyn Law
Review and the Columbia Business Law Review.
Doré earned his bachelor's degree from Rice University and law degree from the University of Texas School of Law.