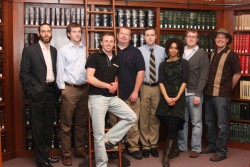 Professor Jonathan Rosenbloom with his class: John Crotty, Corey Longhurst, Christopher Frank, Samuel Bolton, Mariama Conde, Joel Radaj, Judd Jensen.
The city of Des Moines has been going green — constructing certified LEED buildings and implementing hundreds of green initiatives. As the municipality marches toward creating a more "Sustainable Green Community," it is getting some assistance from Drake University law students who are developing a blueprint for making municipal laws and ordinances more environmentally friendly, socially responsible and economically viable.
The law students have researched and drafted reports recommending changes to enhance sustainability in local government. The students have been enrolled in a new course on Sustainability and Its Application, taught by Jonathan Rosenbloom, assistant professor of law at Drake. As part of the application portion of the class, students worked closely with their client: the Greater Des Moines Partnership, which is dedicated to promoting economic and community development in the Greater Des Moines area.
"After an extensive search, we selected the Greater Des Moines Partnership as the client for the class because of its prominence in the region, plus its leaders were the most enthusiastic about the course and working with students," Rosenbloom said.
"The regional visioning process now underway across central Iowa has included sustainability as one of its three guiding principles for future growth," said Partnership Sustainability Committee Chair Larry James Jr. "This partnership brings city leaders, business leaders and those we hope will become tomorrow's residents and community leaders together to work for a better future for Des Moines and Central Iowa."
Together, the students and Partnership officials selected four topics for the class to analyze:

Sustainable procurement, which mandates consideration of environmental factors in addition to price in the purchase of anything from cars to pencils by the city of Des Moines
Sustainable building and design of commercial buildings, which could be promoted through incentives in the permit process
Reduction of run-off from agricultural land and its impact on Des Moines and the rivers that run through it
Protection and expansion of the urban forest in Des Moines through the laws governing it
Students gained insight into these issues from guest speakers who attended various class sessions. These speakers included Des Moines Mayor Frank Cownie, Council member Skip Moore and business leaders who serve on the Greater Des Moines Partnership's Sustainability Committee.
The students' work culminated in four detailed reports, which they recently presented first to the Greater Des Moines Partnership and then to the Des Moines City Council. These reports include concrete proposals to change the city code and some council policies. A compilation of the reports is available on the Drake Law School website.
Professor and city officials praise the students' work
"The students confronted serious issues and did a wonderful job," Rosenbloom said. "Mayor Cownie and Council members Christine Hensley, Brian Meyer, as well as City Manager Richard Clark, praised the students and their work on the record," Rosenbloom said." Council member Bob Mahaffey approached me after the meeting to state how pleased he was with the students' work and that Drake had taken an additional interest in the city."
"The city of Des Moines initiated its green policy in 2007," said Mayor Frank Cownie. "This is a long process and we can use all the help we can get. The contribution by the Drake University law students is valuable and a strong foundation on which the council can begin to build even more meaningful policies that will help the city reach its goal of creating a 'Sustainable Green Community.'"
The City Council referred the students' reports to the city's Sustainability Committee, which is expected to refine the proposals and potentially bring them back to the council for consideration and possible adoption. The city is recording its green progress on the "Green Des Moines" website at www.greendm.org/WhatIsCityDoing.aspx.
Students value opportunity to work with city officials
"The most valuable part of the class was getting the opportunity to make a real proposal to important people in the community who could actually make it happen," said John Crotty, a second-year law student from Marshalltown, Iowa. "It was great to be able to say, 'This is what needs to be changed and here is how to do it.'"
Judd M. Jensen, a third-year law student from Circle, Mont., described the class as a great educational experience.
"Professor Rosenbloom did a really good job of reaching out to the Des Moines community to bring in guest speakers and panelists to provide feedback on our reports and presentations," Jensen added. "All in all, it really helped with all aspects of my legal skills, from researching to writing to presentation."
Rosenbloom spoke about the class at a recent conference held at Pace University Law School that focused on teaching environmental land use and sustainable development.
"We are doing something pretty unique here," he said. "No one at the conference had heard of a similar class where a law school collaborated with a community leader to increase sustainability. It was an invaluable learning experience for the students and an invaluable resource for the city."