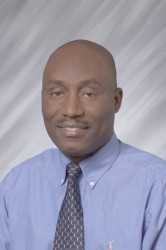 Jimmy Senteza
Jimmy Senteza, associate professor of finance at Drake University and a native of Uganda, has been awarded a Fulbright Fellowship to teach, conduct research and mentor graduate students at Uganda Martyrs University for the 2011-12 academic year.
Senteza initiated Drake's travel seminar on sustainable development in Uganda in 2007 as part of a collaboration with his alma mater, Makerere University Business School (MUBS) in Kampala. The seminar has taken place every year since then, and a delegation from MUBS visited Drake last fall to explore additional opportunities for collaboration.
The first faculty exchange took place this spring, when Diane Ntamu, director of the Entrepreneurship Center at MUBS, taught a one-credit Entrepreneurship MBA seminar with Deb Bishop, associate professor of practice and director of Drake's Buchanan Center for Entrepreneurial Leadership and the Pappajohn Center for Entrepreneurial Outreach. Colin Sentongo, chair of the MUBS Board of Trustees, also came to campus this spring to discuss the expansion of collaborative programs with Drake faculty and administrators.
Drake's fifth Uganda travel seminar, which begins today (Wednesday, May 18), will focus on human rights, democracy, entrepreneurship, education, tourism, health care and business practices. Senteza will be teaching the seminar for 18 students along with Bishop, Associate Professor of Finance Tom Root and Associate Professor of History Glenn McKnight. The students will blog about their experiences at www.mubs-drake-seminar.blogspot.com.
Through these travel seminars, Senteza has seen firsthand the challenges facing colleges and universities in Uganda, where there is a shortage of instructional and educational resources.
"The challenges are especially severe in business-related education, which is in its infancy in Uganda," Senteza said. "Financial markets in Uganda are still in their infancy as well. The Uganda Securities Exchange, where most public trading of financial securities takes place, is just over a decade old and has 14 stocks and a handful of bond issuers."
Following this year's three-week seminar, Senteza will remain in Uganda to prepare for his Fulbright Fellowship at Uganda Martyrs University in Nkozi, where he will work with the faculty to review and revise the curriculum in business administration and management. He also will teach classes in Corporate Finance and Investment Management, customizing the course content to meet the needs of Ugandan business professionals.
In addition, Senteza will assist graduate students with their research projects and collaborate with faculty members on research assessing the impact of micro-credit programs on homesteads in Uganda's rural areas. He also plans to develop partnerships with other local business schools with the goal of organizing conferences and forums where faculty members can share their scholarly work.
"This is an opportunity to contribute towards developing business talent in Uganda through higher education," Senteza said, "and I am glad to be part of the effort, thanks to the Fulbright Program."
The Fulbright Program awards grants for international educational exchanges between scholars, graduate students and educators. Individuals who are accepted are able to undertake graduate study, advanced research, university teaching and teaching in elementary and secondary schools in countries across the world.
"Professor Senteza joins a large group of Drake faculty who have been invited to be Fulbright Scholars, one of the most prestigious international fellowships," said Drake Provost Michael Renner. "We know that he will have a rich experience that he will bring back to the campus and share with the entire Drake community."
Senteza has been a member of the Drake faculty since the fall of 2000. He holds a bachelor's degree from Makerere University and an MBA and Ph.D. in finance from Washington State University.