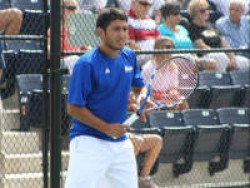 Senior Mauricio Ballivian
Momentum can be a fickle beast and for the Drake men's tennis team the mojo was within the Bulldogs' grasp but they couldn't capitalize as 17th-rated Illinois dealt Drake a 4-0 NCAA Tournament setback on Friday, May 13, at the Khan Tennis Center in Champaign, Ill.
The Bulldogs came into the match knowing that the ability to strike early and earn the doubles point would prove instrumental in their upset chances.
"I thought we competed very well today against a talented Illinois team and it was tough to come back after being in a position to win the doubles point,"" Drake head coach Evan Austin commented. "I'm really proud of this team the way they fought and competed all year long and I'm looking forward to continuing to build upon this year's success."
The tandem of senior Mauricio Ballivian (Santa Cruz, Bolivia) and sophomore Anis Ghorbel (Sfax, Tunisia) were dominating at the No. 1 position dispatching of Johnny Hamui and Abe Souza, who are ranked 78th in the latest Intercollegiate Tennis Association (ITA) rankings, 8-3.
The Bulldogs broke open a two-all tie with five unanswered tallies to assume a 7-2 lead and never looked back en route to victory.
The triumph allowed Ballivian to match Sergi Vila for fourth place on the all-time victory list at Drake with 194 career wins.
On court No. 2 the Fighting Illini tandem of Brian Alden and Dennis Novolo registered three-straight points to break open a 3-3 tie and held off a late charge by sophomores Jean Erasmus (Windhoek, Namibia) and James McKie (Edinburgh, Scotland), 8-5.
All the attention turned to the No. 3 position where junior Cesar Bracho (Luque, Paraguay) and freshman Robin Goodman (Cambridge, England) were battling Stephen Hoh and KU Singh. The two sides exchanged points before the Bulldogs erased a 4-3 deficit with four answered to take a 7-4 lead. Illinois though kept chipping away to tie the contest and then won the tilt, 9-7.
In singles, Drake jumped to early leads on five of the six courts before Illinois settled in and got back into its game making the Bulldogs work for every point.
McKie won his first set at No. 4 over 81st-rated Souza, 6-1, but couldn't overcome his opponent dropping the second set, 6-3, and trailing 3-2 when the match was halted.
Ballivian nearly matched McKie in winning the initial set but 15th-ranked Nevolo rallied from a 5-2 deficit to garner a 7-5 decision before taking the second set, 6-1, to win the match.
Illinois earned triumphs at the top three slots to secure the victory.
The match was the final one in the distinguished career of Ballivian, who led Drake to a trio of Missouri Valley Conference regular season titles and a pair of NCAA Tournament berths.
"Mauricio has been such an incredible leader and representative of our team and university and I know it is great to see him reach so many of his goals during his distinguished Drake career," said Austin.
Drake concludes its season at 21-3, while Illinois moves into the second round with a 17-10 ledger.
NO. 17 ILLINOIS (17-10) DEF. NO. 63 DRAKE (21-3), 4-0

MAY 13, 2011 * CHAMPAIGN, ILL.
SINGLES:

No. 1 No. 15 Dennis Nevolo (ILL) def. Mauricio Ballivian (DU), 7-5, 6-1

No. 2 KU Singh (ILL) def. Anis Ghorbel (DU), 6-0, 7-6 (3)

No. 3 No. 122 Roy Kalmanovich (ILL) def. Jean Erasmus (DU), 6-2, 6-2

No. 4 James McKie (DU) vs. No. 81 Abe Souza (ILL), 6-1, 3-6, 2-3 unfinished

No. 5 Robin Goodman (DU) vs. No. 104 Johnny Hamui (ILL), 2-6, 6-3, 1-1 unfinished

No. 6 Jonathan Hadash (DU) vs. Bruno Abdelnour (ILL), 4-6, 1-4 unfinished

Order of finish: 3,2,1
DOUBLES:

No. 1 Ballivian/Ghorbel (DU) def. No. 78 Hamui/Souza (ILL), 8-3

No. 2 Brian Alden/Nevolo (ILL) def. Erasmus/McKie (ILL), 8-5

No. 3 Stephen Hoh/Singh (ILL) def. Bracho/Goodman (ILL), 9-7

Order of finish: 1,2,3