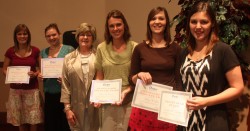 Dean Jan McMahill (third from left) recognizes the excellent work of School of Education students.
Over one hundred student teachers, mentor teachers, supervisors, faculty, and supportive friends and family attended last Tuesdays Mentor Reception in Levitt Hall. Dean Jan McMahill gave special thanks to the community of mentor teachers and supervisors who assist our education students with learning the way of the classroom. She also recognized Professor Tom Drake for his years of instruction for student teachers.
Also during the reception, the School of Education presented Awards for Outstanding Excellence to graduating seniors and graduate students in their respective areas of study including undergraduate Elementary and Secondary Education, the Graduate TEPD program, MAT, MST and SPED. Starting last year, a generous donor provided funding for an award for one student from each program area in the form of a certificate and check for $100.
We are very proud of the achievements of all our students and would like to recognize the following students nominated, out of several hundred within each program, by School of Education faculty for their hard work:
Sandy Ballard–Nominated by Assistant Professor Cris Wildermuth. Despite working long hours Master's student Ballard, "put an unbelievable amount of work into her Capstone project… identified two valid instruments, got the authors' permissions for use, collected data from over 600 people, and met with me numerous times to decipher correlations, t-tests, and a factor analysis. Her thirst for learning was insatiable…"
Billy Battison–Nominated by Professor Tom Drake. Graduating senior Battison was an Outstanding First Year Student, member of the OmegaGreek Honor Society, and graduate of the Donald V. Adams Leadership Academy. He was also an Orientation Leader for SOE, and Student Ambassador and Inter-fraternity Council President. Battison coached wrestling at North High School. He has been hired to teach at Dowling Catholic High School. "Top 1% of young people I have worked with in 47 years of public and post[-secondary] education," per Drake.
Lynda Brown–Nominated by Professor Thalya Hanson. Master's student Brown will graduate with a degree in Education in Teacher Effectiveness and Professional Development with an endorsement in ESL/ELL. Per Hanson, "Lynda is a culturally responsive teacher whose willingness to help others goes beyond the classroom walls." In fact, she hosted several fellow students from South Africa for Thanksgiving on her family farm. She also took a leadership role during a recent tornado evacuation warning at Drake. "She exemplifies leadership through her actions, coursework, and relationships with learners in all of her professional communities."
Dana Dodson–Nominated by Professors Michael Couvillon, Kathy Fejes, Deb Thomas. Master's student Dodson will graduate with a degree in Special Education. Per the nominators, "Dana stands out among her peers… she is well prepared and always goes above and beyond what is necessary… also stands out in her application of knowledge in her own classroom at the PCM Community School District… very active within her school district as both a teacher and advocate for students with disabilities… once you get to know her you will understand why she was nominated. ;)"
Jessica Lang–Nominated by Professor Shelley Fairbairn. Master's student Lang will graduate with a degree in Arts in Teaching. Per Fairbairn the reasons for Lang's nomination are, "leadership in the classroom… very engaged… seeking 'extra' learning… took regular advantage of office hours… deep thinking… always thought about how content in education classes applied to 'the real world.' For instance, also described as "very personable" and "committed to excellence," Lang worked in Drake's Math Lab.
Esther Locher–Nominated by Catherine Gillespie. Graduating senior Locher focused her studies on elementary education and unified early childhood and reading. Per Gillespie, "She is an excellent writer and diligent student." Lang has been involved with the education honor society Kappa Delta Pi and service projects such as Books and Bagels. "She is an excellent student and earned the departmental consensus for nomination."
Jessica Tentinger–Nominated by Associate Dean Eunice Merideth. Graduating senior Tentinger earned a degree in secondary math education. Per Merideth, "Ms. Tentinger's academic record is outstanding and reflects a true intellectual spirit coupled with the sensitivity to the complex nature of education and its social pressures." Merideth also described Tentinger–a member of Kappa Delta Pi Honors society and NCTM, a student representative for SOE's technology committee, and a volunteer math tutor at PACE–as "secure in her knowledge, competent in her practice, and outstanding in her curricular planning," and, "able to translate theory into practice effectively and creatively."
From Dean Janet McMahill: "Sincere congratulations for the good work you have completed!"