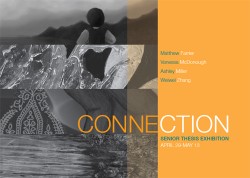 Four graduating students from the Department of Art and Design are showcasing their work in their senior exhibition, "Connection." A closing reception will be held from 5-7 p.m. on Friday, May 13, at the Anderson Gallery of the Harmon Fine Arts Center, 2505 Carpenter Ave. The exhibit, which opened on April 29, is free and open to the public.
"Connection," is the last exhibition of the 2010-11 season and features the work of graphic design majors, Vanessa McDonough, Weiwei Zhang, Matthew Farrier and graphic design and painting major, Ashley Miller. The exhibition includes a mixture of painting, prints, drawings, digital drawings, and graphic design.
"Connection represents the elements of style and subject matter behind each of our pieces," said McDonough, the show coordinator. "It tells the story of the way we explored our own work to make connections between our canvas and our audience."
Each artist took a different approach to the theme. With their different use of size, color, and subject matter, all four students add something unique to the space. Their diverse personalities combine to showcase their talent and technical skills.
"We all have distinct artistic styles and that is reflected in the show," McDonough said. "Connection is a stage for us to showcase our talent and skill."
The closing reception will feature the student's work and refreshments will be provided. Artists and faculty will be in attendance. The reception is free and open to the public.
The Anderson Gallery is open Tuesday through Sunday 12-4 p.m. and by appointment.

For more information about Connection and other exhibits, please visit the Anderson Gallery website.