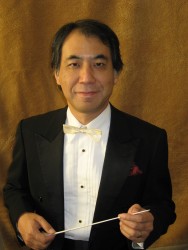 Akira Mori, director of orchestral studies at Drake, will conduct the ensemble.
The Drake Symphony Orchestra, under the direction of Akira Mori, will feature winners of the 2010 Concerto Competition in its final concert of the spring semester on Tuesday, May 3.
The concert, which is free and open to the public, will begin at 8 p.m. in the Performing Arts Hall of Drake's Harmon Fine Arts Center, 25th Street and Carpenter Avenue.
Winners of the Drake Concerto Competition perform a complete concerto or comparable work with the Drake Symphony Orchestra.
This year, the performers and their repertoire include:

* Soprano Chelsea Smith, a senior music performance major from Ankeny, Iowa; Smith will perform arias from the operas "Carmen" by Georges Bizet, and "Cosi fan Tutte" by Wolfgang Amadeus Mozart.

* Devin van Holsteijn, an alto saxophonist and sophomore music business major from Spencer, Iowa, will perform "Divertimento," a concert composed by Roger Boutry.

* Soprano saxophonist Matthew Winkler, a fourth-year student in Drake's professional pharmacy program and a music minor from Metamora, Ill., will perform Alessandro Marcello's "Concerto in C Minor" with the orchestra.
"Music students very seldom have the opportunity to be featured in an orchestral concerto, much less one backed by a college ensemble," Winkler said. "This is a once-in-a-lifetime opportunity."
Smith agreed with Winkler's assessment, adding that the experience to work with the Drake Symphony Orchestra has deepened her passion for music.
"Singing with
the orchestra has given me a better perspective on what its like to
collaborate with a large ensemble," Smith said. "I feel very honored and grateful
to be recognized. This is my last semester at Drake, and I cannot think of
a better send off."