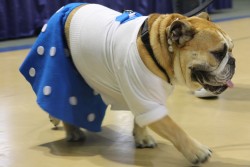 Lucy Brown! is decked out for a 1950s-style sock hop.
Sauntering past the judges in a pearl necklace, white cardigan sweater and a blue poodle skirt, Lucy Brown! of Johnston aimed to be selected the Best Dressed Bulldog in today's Beautiful Bulldog Contest at Drake University.
She did far better than that. All five judges selected her as the top dog and the official mascot of the 102nd Drake Relays, according to judge Sandy Hatfield Clubb, who also serves as Drake's athletic director.
"You want a face that looks tough but kind. That's the Drake way," Clubb said. "She just has a great personality and is a very loveable dog." View photos of Lucy and the other contestants in an online photo gallery.
Lucy will make appearances at Relays-related events throughout the week. Follow her on Twitter via the handle @BulldogRoyalty.
This was Lucy's third entry in the Beautiful Bulldog Contest. Last year she was named Miss Congeniality.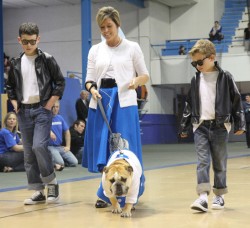 Aaron, Nancy and Colin Brown escort Lucy along the parade route.
This year her owner, Nancy Brown, wore a white cardigan sweater and blue
poodle skirt to match Lucy's outfit. In keeping with the 1950s fashion
theme, Brown's sons — Aaron, 11, and Colin, 9 — sported dark sunglasses and black leather
jackets.
"I can't believe it," Nancy Brown said after Lucy took her place on the
throne, donned the winner's crown and posed for photographers. "I was
totally going for the Best Dressed Award."
In talking with reporters, she described Lucy as a 2.4-year-old,
low-maintenance bulldog that "sleeps and plays a lot and loves to be
loved."
Forty-three contestants competed in today's 32nd annual Beautiful
Bulldog Contest, which took place in the Drake Fieldhouse instead of
outside at Nollen Plaza because of rain.
Many of the dogs were decked out in elaborate costumes that ranged from a ladybug to a leprechaun.
Some contestants took to their outfits with ease, while others were a
bit more apprehensive. Miller, a 5-year-old bulldog from Des Moines,
strutted his stuff in a green "leprechaun" shirt and hat "" garb that
didn't initially strike his fancy.
"We had him wear it an hour a day leading up to the contest," said Ray
McCleary, who saved loose change and sold soda cans with his wife,
Crystal, to help pay for the canine.
"At first, he wasn't real big on the hat. He kept pawing at it and
knocking it on the floor. Then he'd pout on the couch all day."
Cari, Rich, Blake, Sam Tonkheim traveled to Drake from Omaha, Neb., with
first-time competitor Rosie and Rosie's younger sister, Daisy. The two
canines looked out the back window of the car and hardly made a peep all
the way to Des Moines.
Rosie was decked out in a rhinestone-enhanced "bling costume" during the
pageant, but Rich Tonkheim hoped the judges factored in the dog's other
qualities.
"We're really riding on her intelligence as key to her success," Rich
Tonkheim said. "When we take her out for a walk, she knows exactly the
right way to go, even if you're a mile from home. If she's snoozing
she'll wake up and run at even the slightest sound of food. And if you
have your luggage packed for a trip, she notices and blocks the door
when you try to leave."
In addition to Lucy, eight other contestants won awards:

Runner Up:

Crown Vincent da Mobster of Runnells, Iowa, owned by Brad Cochran

Farthest from the Doghouse:

Trudy of Broomfield, Colo., owned by Susie Kubin

Second Farthest from the Doghouse:

Gabby of Aurora, Ill., owned by Vicki Perrin

Oldest Bulldog:

Tank, 9 years old, of Urbandale, owned by Mandy Shepherd

Youngest Bulldog:

Layla, six months old, of Grimes, Iowa, owed by Rhonda Carver

Best Dressed Bulldog:

Gunney of Carlisle, Iowa, owned by Deb Musselman

Miss Congeniality:

Zena, the Warrior Princess, of Cedar Rapids, Iowa, owned by Cindy Driscoll

Mr. Congeniality:

Maxxis of Des Moines, owned by Robert and Elizabeth Apt