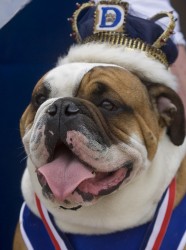 Meatball wears his crown after being selected as official mascot of the 2010 Drake Relays.
Fifty tail-wagging contestants will work their wrinkles this year at Drake University's 32nd Annual Beautiful Bulldog Contest on Monday, April 25. The event has been moved from Nollen Plaza in downtown Des Moines to the Drake Fieldhouse at 27th Street and Forest Avenue because rain is forecast for Monday.
Judging will take place from 10:45 a.m. to noon, followed by the pageant from noon to 1 p.m. The winner, to be announced at 1 p.m., will serve as the official mascot for the 102nd running of the Drake Relays April 28-30.
This year's judges are:

Sandy Hatfield Clubb, athletics director at Drake University
Tom Colvin, executive director of the Animal Rescue League of Iowa
Renee Hardman, senior vice president of human resources at Bankers Trust Co.
Susan Moritz, president of the Iowa Public Television Foundation
Julie Stewart, director of community relations at Prairie Meadows Racetrack and Casino
Nearly 100 English bulldogs were registered for this year's contest, which can accommodate only 50 canines. To reduce the number to 50, plus a few alternates, Drake officials conducted a random drawing in the atrium of Capital Square in downtown Des Moines on March 10. Meatball, the reigning 2010 Relays mascot, presided over the drawing from his royal throne.



This was the first time that entries were not accepted on a first-come, first-served basis. In addition, this year's contest limits entries to one bulldog per household for the first time.



The winners of the random drawing come from five states besides Iowa: Colorado, Illinois, Minnesota, Nebraska and South Carolina.



As in years past, the contestants' wrinkles, costumes and unusual names are sure to bring smiles to the faces of many spectators at this family-friendly event. Come see Zeus, Daisy Bear, Gunney, Zena the Warrior Princess, Bubba and many others vie for the crown, cape and throne bestowed upon the winner of the Beautiful Bulldog Contest.



For more information about the contest, call 515-271-2389