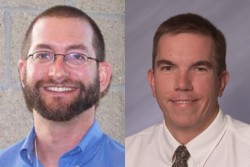 Keith Summerville and Mark Vitha
The Drake University Board of Trustees recently named Keith Summerville, associate professor of environmental science and associate dean of the Drake College of Arts and Sciences, and Mark Vitha, associate professor of chemistry, Windsor Professors in Science.
A committee of their peers chose each for the honor based on their dedication to scientific research, enthusiasm in the classroom, mentorship and support of undergraduate student research.
Summerville has published 39 peer-review papers and secured more than $200,000 in research grants. His teaching interests include restoration ecology, conservation biology, invertebrate zoology and environmental policy. His research focuses on restoration of degraded landscapes to promote native species diversity. Currently, Summerville is working on sustainable forestry in southern Indiana, restoration of forest corridors for biodiversity conservation in western Rwanda, and grazing management of tallgrass prairies in Iowa.
"I am honored to have my efforts to engage students in research awarded," Summerville said, adding that he and co-recipient Mark Vitha both work toward developing opportunities that introduce promising high school students to collaborate in a laboratory setting.
Summerville received his undergraduate degree in environmental science from Westminster College, in New Wilmington, Pa. in 1995. He then spent two years working toward a master's degree in environmental science and policy at Miami University in Oxford, Ohio; his thesis concerned the conservation biology of wetland and pine-savanna insects in Michigan. Summerville spent more than a year working as a field ecologist for the Nature Conservancy, Michigan Chapter, before returning to Miami University to complete his PhD.
Vitha teaches general chemistry and upper division courses in analytical chemistry. His research interests include understanding the intermolecular interactions that govern the separation of molecules in chromatography and also quantifying the effects of solvents on the light absorbing properties of dyes.
"It is an honor to be recognized among those who have already received this professorship and those who have set the precedent," Vitha said. "It also reflects the fact that I have had dedicated students to work with over the past several years. Their research success contributes to my scientific efforts. Lastly, it reflects all of the opportunities that my teachers and research mentors provided to me."
Vitha is an associate professor of chemistry. He earned his bachelor's degree from the University of St. Thomas in St. Paul, Minn., and his PhD in chemistry from the University of Minnesota. He taught at the University of Minnesota Duluth for one year prior to joining the Drake faculty. He is a co-editor of the book "Interfaces and Interphases in Analytical Chemistry" published in 2011 by the American Chemical Society, and has published numerous research articles. He also edits The Chemical Analysis Series, published by John Wiley and Sons.
Summerville and Vitha will hold the title of Windsor Professor of Science indefinitely while at Drake and will receive an additional annual stipend for five years.
The Windsor professorships are made possible by a generous gift from the late Mary Belle Hubbell Windsor, former president of the Des Moines Children's Home and granddaughter of the founder of Equitable Life Insurance Co. of Iowa.
Windsor was the youngest daughter of Grover C. Hubbell and the granddaughter of Frederick M. Hubbell. Her marriage to the late James Harvey Windsor, of the founding family of suburban Windsor Heights, united two of the most powerful and influential families in Des Moines' history.
The late Lon Larson in pharmacy and Luz DeAlba in mathematics, were appointed to the first Windsor professorships in 2001. In 2006, Ronald Torry in pharmacy science and Maria Bohorquez in chemistry were also named as Windsor professors.