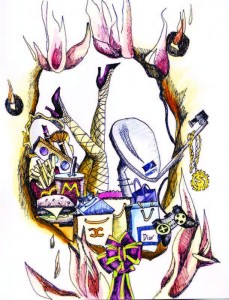 Emily Barger won two first-place awards Monday in the University of Missouri Student Society of News Design contest.
Barger, a double major in magazine journalism and graphic design, was art director for the 2010 edition of Think magazine. She won for illustration and overall design of a special section.
She graduated in May 2010 and now works at Meredith Corp.
You can read the 2010 Think in this click-through PDF. The 2011 edition will be out in early May.
Missouri SSND posted a list of all winners. The winning artwork and design will be featured in this Flickr gallery.