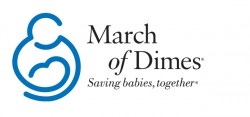 If you place 89,872 dimes side by side, they will stretch exactly one
mile. This month, Delta Sigma Pi, Drake University, and the March of
Dimes Foundation are teaming together to cover the floor of the Drake
University Knapp Center with a mile worth of tiny 10-cent pieces. Drake
University will be the site of the first official Mile of Dimes event in
the state of Iowa.
One mile of masking tape will mark an enlarged version of the March
of Dimes logo on the Knapp Center floor. Visitors will place their dime
donations on the tape during the event to create a silver, shiny outline
of a mother and child. All the donated dimes will go to support the
March of Dimes Foundation. If the entire mile-long design is filled,
nearly $9,000 will be raised for the March of Dimes Foundation.
The event will be held 12-4 p.m. on Sunday, April 17 in the Knapp
Center, 2525 Forest Ave. Drake students, faculty, staff, and members of
the Des Moines community are invited to place their dimes on the March
of Dimes logo to support the March of Dimes Foundation. The event is
free and open to the public, but all are encouraged to bring dimes to
donate.
The goal of the event is to raise both money and awareness for the
health of premature babies. Mile of Dimes events are held nationwide to
raise money for the March of Dimes Foundation. The foundation helps
women to have full-term pregnancies, supports mothers who have had
premature births, and funds research to identify and correct the
problems that threaten the health of babies.
Delta Sigma Pi, one of Drake University's professional business
fraternities, is heading up the Mile of Dimes event. The student
organization first connected with the March of Dimes Foundation while
volunteering at two annual events: the Chef's Signature Auction and High
Heels for High Hopes.
The mile of dimes will be arranged on the gym floor while food,
carnival games, and other fun family-friendly activities will take place
around the track.



The Drake Residence Hall Association will be conducting a
competition to see which hall can collect the most spare change. All
proceeds will be exchanged for dimes and added to the mile on the day of
the event. Several organizations in the Des Moines community are
joining the cause through monetary gifts and raffle item donations.
Corporate sponsors currently include:

Sodexho
3M
Hubbell Realty
For more information, please contact Amanda Otten, 515-975-9031, amanda.otten@drake.edu.
What: The Mile of Dimes

Description: Participants are invited to place dimes along a mile of
tape in the shape of the March of Dimes logo in an effort to raise
money and awareness for the health issues and risks of premature births.

Where: Knapp Center, 2525 Forest Ave.

When: 12-4 p.m. Sunday, April 17

Cost: Free and open to the public
— Emily Brown