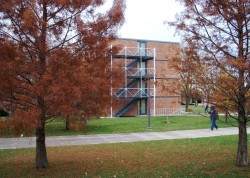 From the beginning, the development of Drake University and the residential neighborhood surrounding it have been directly connected. An upcoming historical presentation will examine the evolving impact of the University's changing housing policies on both the campus and the Drake neighborhood.
The event, titled "Home away from home: Drake student housing through the decades," is free and open to the public. The presentation will be held 7 p.m. Thursday, April 14, in the Cowles Library Reading Room, 2725 University Ave.
Delivered by Maura Lyons, associate professor of art history at Drake University, and Jen James, one of the leaders of an intensive Drake Neighborhood Association historical survey, this presentation will also highlight new discoveries about the history of the Drake area and showcase a collection of one-of-a-kind items held in the library, including campus plans that were never realized.
"The campus was designed to work within the community around it," says Bart Schmidt, assistant professor of librarianship and digital projects librarian at Drake. "Its presence has had a major effect on the surrounding community."
Of particular significance is the decision by Drake President Henry Harmon (1941-1964) to forgo the neoclassical architecture of many of Drake's original structures in favor of modern buildings using modern materials that would be useful for students. Between 1946 and 1966, 16 new buildings designed by distinguished architects Eliel and Eero Saarinen; Ludwig Mies van der Rohe; Harry Weese and Associates; and Brooks, Borg and Skiles were constructed on campus. The structures brought national attention to Drake. (See historical photos and video on the subject at buildingamoderncampus.com.)
This lecture will highlight how the built environments of Drake University "" especially student housing "" have impacted the life and culture of the surrounding area.


"Home away from home: Drake student housing through the decades"

This historical presentation will focus on the University's changing housing policies and their implications for both the campus community and the Drake neighborhood.

When: 7 p.m. Thursday, April 14th

Where: Cowles Library Reading Room, 2725 University Ave.

Cost: Free. Reservations requested by April 8, susan.fink@drake.edu or 515-271-3994