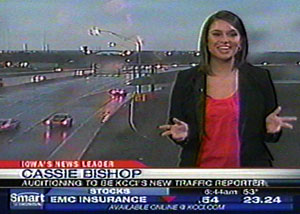 Broadcast News junior-to-be Cassie Bishop became the fourth of seven Central Iowans chosen for on-air tryouts to join KCCI's morning news team as traffic reporter.
The Bondurant (Iowa) resident appeared between 6 and 7 a.m. April 14.
She was featured in two interview segments with morning news anchors Steve Karlin and Katie Ward. Bishop also updated the traffic report on a rainy morning.Bishop was selected from among dozens of applicants during auditions April 2 at Karl Chevrolet in Ankeny.
The station will soon add new mapping that shows where traffic is moving smoothly and where it's not.