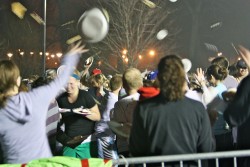 Drake Students smash each other with pies in an attempt to break a Guinness World Record
The pies hurled through the air and smashed into students' hair at Drake University in the wee hours of Saturday morning certainly wouldn't have made it into the display case at Baker's Square, but the sheer quantity of custardy concoctions (1,718) just might be enough to earn the school a spot in the Guinness World Records.
Nearly 700 students packed a section of the Olmsted Center parking lot for a 2 a.m. pie fight Saturday, a stunt intended to show school spirit and kick-off the Drake Relays celebration with some good, not-so-clean fun. The pie fight was preceded by a packed evening of "Dogtown After Hours" student-planned, alcohol-free programming that included a bags tournament, a hypnotist and a headphone disco dance party that quietly rocked the Pomerantz Student Union.
Record attempts require strict documentation, so all participants were required to sign in at Olmsted Center and received an X mark on their hands before they filed out toward a cordoned-off fight zone, complete with a makeshift outdoor shower. Students dressed in sweatshirts and ponchos all the way down to swimsuits braved 51-degree, misty, windy weather for a chance to take part in history.
"I'm really motivated to help break the Guinness World Record," said Yusuf Quereshi, a first-year student from Milwaukee, Wisc., who admitted if he wasn't up late for a pie fight he would be cramming for two upcoming exams.
The scene was organized chaos as students streamed into the barricaded pie fight area, the length and width of which was ringed four deep with pies. On command, they threw, smooshed, smashed and wiped platefuls of dessert at their peers.
All of the preparation was worth it for a few minutes of fun, according to Greg Larson, vice president of the Drake Student Activity Board and student body president-elect.
"This is unreal," Larson said. "We literally spent about six months planning this and working with people and figuring what we wanted to do and how we were going to do it and it all came together perfectly."
The planning committee wasn't able to give exact figures at the time of the event, but Tasha Stiger, director of campus programming and Student Activities Board adviser said she believes Drake's crowd eked out a new record. Students will submit an evidence pack with proof of participation numbers and media coverage of the event to the Guinness World Records authorities before a record can be confirmed.
PHOTOS: See a photo gallery from the pie fight on Flickr.

VIDEO: Watch a YouTube video of hundreds of Drake students attempting the World's Largest Custard Pie fight.

Watch Greg Larson, vice president of the Student Activities Board, react to the outcome.