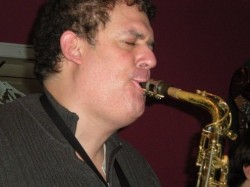 Rob Scheps
A jazz quintet featuring saxophonist Rob Scheps, trumpeter Greg Gisbert, bassist Bob Bowman and pianist Roger Wilder will perform a concert at Drake University on Wednesday, April 6.
The performance, which is open to the public, will be held at 7:30 p.m. in the Patty and Fred Turner Jazz Center, located in the Harmon Fine Arts Center, 25th Street and Carpenter Ave. Tickets cost $10 at the door; advance tickets can be purchased or reserved through the Drake Fine Arts Box Office, 515-271-3841.
"The band takes the influences of Coltrane, Miles Davis, Gil Evans and classic Blue Note records and shores them up with a modern, swinging, high energy New York City approach to small group jazz," Scheps said. "Creativity, swing and sensitivity are the hallmarks of the ensemble."
For this performance, the group will be joined by John Kizilarmut, Drake's teaching artist of jazz drums.
Scheps earned his bachelor's degree with honors from the New England Conservatory of Music in 1986. Two years later, he moved to New York and formed the Rob Scheps Core-tet and the Rob Scheps Big Band. He has performed with Gil Evans, Clark Terry and Arturo Sandoval, and has received numerous "Down Beat Magazine Awards" in recognition of his recorded performances.
Gisbert, who attended the Berklee College of Music, has performed with Buddy Rich, Woody Herman, Jimmy Heath, Maria Schneider and Wynton Marsalis. He is an active and highly respected jazz educator, teaching at festivals and conducting clinics across the U.S.
Bowman, who attended North Texas State University, has toured internationally with the Thad Jones-Mel Lewis Orchestra, the Toshiko Akiyoshi-Lew Tabakin Big Band, Freddie Hubbard, Kevin Mahogany and Carmen McRae. He leads the groups Bowdog and Interstring.
Wilder received his bachelor's degree from the University of Miami. He resides in Kansas City, Mo., and performs regularly with the Boulevard Big Band, Sons of Brasil and the Westport Art Ensemble.
For more information, contact the Turner Center's event coordinator Devin van Holsteijn at devin.vanholstein@drake.edu, or 712-240-7926.
The Rob Scheps/Greg Gisbert Quintet featuring Bob Bowman

Where: The Patty and Fred Turner Jazz Center at Drake, the Harmon Fine Arts Center, 25th Street and Carpenter Ave.

When: 7:30 p.m. Wednesday, April 6

Cost: $10 in advance or at the door, tickets may be reserved through the Drake University Box Office at (515)-271-3841. $2 student rush tickets (with valid ID) made available at 7:15 p.m.