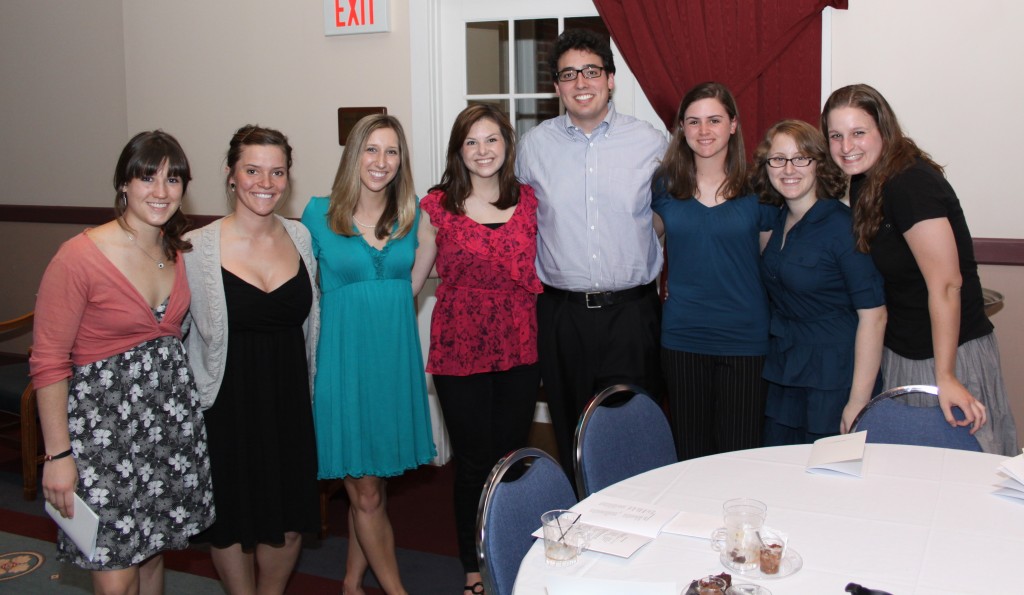 The School of Journalism and Mass Communication celebrated the graduating class of 2011 and winners of departmental scholarships during an awards ceremony on Sunday evening, April 3. See photos on Facebook.
Approximately 100 students, parents and faculty members attended the dessert reception, held in Levitt Hall of Old Main. This year for the first time, the graduating class was asked to nominate a senior to address them. Matt Vasilogambros, a news-Internet and politics major, was chosen for the honor.
Emily Cook, a magazine major, was recognized as the School's top scholar, the senior with the highest grade point average. Her name will be engraved on a silver bowl and displayed in Meredith Hall.
Cook and  seven other students were inducted into the Kappa Tau Alpha national honor society, which recognizes juniors and seniors majoring in journalism or mass communication, based on scholarship and character. The 2011 inductees were:
Emily Cook
Monsicha Hoonsuwan
Anne Jacobson
Kelsey Jones
Jessica Kinkade
Diane Meyer
Matthew Shattuck
Abraham Swee
Other awards and scholarships announced at the reception included:
Advertising
ADDY Award winners:
Gold Addy: Drake Ad Clubfor its "Creativity That's Criminal" campaign
Silver Addy: Stephanie Anderson and Tyler Larsonfor their magazine ad "SJMC: There's an App For That"
Wesley Day Scholarship: Tyler Larson
Alpha Delta Sigma national professional advertising honorary society:
Jamie Rae Bailey
Mary Brueggemann
Stephanie Bruner
Allison George
Jonathan McDonald
Lydia Metzger
April Suzanne Meyer
Alejandro Munoz
Nicholas Sellers
Tyler Tran
Rachel Yancey
Erik Isgrig Advertising Scholarship:
Beth Walters-Peterson Award for outstanding work in copywriting:
Electronic media
94-1 "Top Dog" award:
Hosman Awards for work on the Drake Digital News or other electronic publications sponsored by the SJMC:
Kyle Glaser
A.J. Harrison
Abraham Swee
Bailey Berg
Jim Duncan Memorial Scholarship, recognizing radio-television students for outstanding promise in production and performance:
Cameron Good
Autumn Moore
Ted Sell Memorial Award for a junior or senior interested in a career in print or television:
Frank Miller Awards:
Rebecca Altenhofen
Eamonn Cogan
Lauren Staller
Rachel Yancey
Iowa Broadcast News Association Award winners for 2010:
Laura Hoeft
Jess Hoffer
Paige Hulsey
Magazines
Meredith Home and Family Journalism Apprentices 2010-11:
Caitlin Berens
Hannah Boom
Emily Cook
Kate Foley
Hannah Hoffman
Laura Johnson
Riane Menardi
Nick Sellers
Karyl Van Scholarship 2011-12 for student to work in the E.T. Meredith Center for Magazine Studies:
Meredith Corp. Scholarships 2011-12:
McKenzie Anderson
Katherine Dewitt
Clara Haneberg
Kelly Hendricks
Laura Johnson
Rebecca Leonard
Jeff Nelson
Erika Owen
Marina Shawd
Rebecca Warner
American Society of Magazine Editors (ASME) summer internship:
Associated Collegiate Press Pacemaker award winner:
Think magazine staff 2010
Finalists: 515 Magazine, Drake Magazine, Times-Delphic, Periphery
SPJ Region 7 Mark of Excellence contest winners:
Sarah Andrews
Ari Curtis
Laura Johnson
Jason Oelmann
Nicole Salow
Rachel Vogel
News-Internet
Harrison Harding Memorial Scholarship for Times-Delphic editor-in-chief.:
Lizzie Pine (2010-11)
Kristen Smith (2011-12)
Iowa College Media Association Student Newspaper Contest winners:
Matt Vasilogambros
Sarah Andrews
Matt Moran
Dominic Johnson
Cyril and Lucille Clifton Scholarship for academic achievement:
Joe Patrick Green Eyeshade Award, recognizing an outstanding copy editor:
Lottie and Robert Brown Scholarship, recognizing an entering SJMC student who exhibits outstanding academic and leadership potential:
Mary Kate Wachtel
Amanda Laurent
Katherine Futch Scholarship, recognizing an entering  SJMC student who exhibits professionalism, intelligence and integrity:
Megan Bannister
Gwen Baumgartner
Tyler O'Neil
John Thumser
Larry Neibergall Scholarship for photojournalism:
Frank Miller Scholarship for contributions in the area of Web-based graphic design:
Woodward Award for Public Affairs Reporting, recognizing excellence in public affairs reporting:
Robert D. Woodward Endowed Scholarship for a news-Internet major who has demonstrated a passion for accuracy, ethical decision-making, and reporting and editing the facts:
Public relations
Tom Norquist Memorial Award:
MacKensie Smith
Evan Tonda
Sean Walsh
Fausch Awards for outstanding contributions to research for the senior capstone:
Lauren Brandt
Hillary Gebert
Stephanie Grow
Anne Jacobson
Goizane Mullin
Bateman Case Study Competition participants:
Elsa Becker
Jessie Hill
Jessica Reisig
Jessica Scott
Sean Walsh