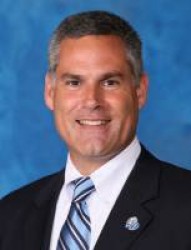 Chris Creighton
Drake Head Football Coach Chris Creighton has received a 2011 Giant Step
Award from the National Consortium for Academics and Sports (NCAS) for
his leadership in organizing the Global Kilimanjaro Bowl, which will
take place May 21 in Arusha, Tanzania.Ӭ
The Kili Bowl will pit the Drake Bulldogs against a Mexican all-star
team in the first sanctioned American-style football game on the
African continent. While in Tanzania, Coach Creighton will lead the
Bulldogs in a variety of service projects, including a construction
project that will add a new girls' wing to an orphanage in Moshi.
The team will also conduct football clinics for approximately 1,600
Tanzanian youth and engage in team-building exercises, such as a climb
to the highest point in Africa, with fellow athletes from Mexico.
NCAS announced Creighton's Giant Step Award today in Orlando, Fla.,
as part of National STUDENT-Athlete Day. NCAS established the day to
honor the hard work and dedication of high school and college
student-athletes, nationwide, who have not only excelled in the
classroom and on the playing field, but also have made significant
contributions to their schools and communities. Ҭ
Giant Step Awards honor individuals who use sport to positively
affect social change, actualizing the mission of the NCAS. The awards
recognize student-athletes, athletic administrators, civic leaders,
coaches, parents, organizations and other individuals who demonstrate an
outstanding ability to manage life on and off the field, and who
demonstrate a commitment to the betterment of society.
ҬIn a news release announcing the Giant Step Awards, NCAS said,
"Coach Creighton has always sought to develop his players as men, as
ethical leaders and as influential members of their communities. His
goal has never been simply to win games, but to make his players'
experience as a Drake Bulldog one that will challenge them, change them
and impress upon them how sport can be used to serve humanity." "¨"¨
"I am definitely humbled to receive this award," Creighton said.
"I'm appreciative of the support of (Drake Athletic Director) Sandy
Hatfield Clubb, taking the time to make this possible for me and being
supportive of this entire trip. She's put so much work into this
project, as have so many others. My hope would be that everybody
involved would share in the excitement that I feel in being recognized,
because they too have played a significant role.""¨"¨
"A couple years ago Dr. Richard Lapchick (NCAS President & CEO)
visited Drake and spoke to our athletics staff," Creighton said. "He had
a very powerful message. I know that we at Drake want to be involved in
sport for all the right reasons, and the NCAS stands for all the right
things. To be a part of their mission means a lot."
Creighton and the other 2011 Giant Step Award winners will be
honored on Tuesday, Oct. 11, at the NCAS banquet in Orlando, Fla. More
information about the Giant Step Award winners is available on the NCAS website.