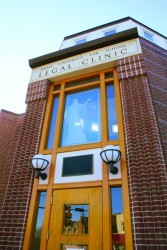 The Iowa Supreme Court will convene at Drake Law School on March 24.
The Iowa Supreme Court will travel to the Drake University Law School for oral arguments Thursday, March 24, starting at 9:30 a.m. The oral arguments are part of the Law School's Supreme Court Celebration. This annual event is designed to help law students become more familiar with appellate court procedure and arguments. Drake law students will have the opportunity to see how attorneys represent their clients before the court in the courtroom of Drake's Neal and Bea Smith Law Center, 2400 University Ave. Following the arguments, the justices will participate in a question-and-answer session for the students.
The supreme court will hear two cases:



10-0094, Berry v. Liberty Holdings Inc.



Plaintiff, who brought an action for wrongful termination alleging he was fired for having filed a personal injury suit against an entity partially owned by his employer, appealed from a district court order dismissing his action for failure to state a claim upon which relief could be granted. Plaintiff contended the court erred in failing to recognize a public policy against such a termination. The court of appeals reversed and remanded for further proceedings. Defendant seeks further review.

09-1125, Iowa v. Harrington



The defendant seeks further review of the court of appeals' decision affirming the district court's resentencing of him on two counts of possession of a controlled substance, two counts of failure to affix a drug tax stamp, and one count of unauthorized possession of an offensive weapon. The defendant argues that the district court's imposition of sentencing enhancements on the drug possession convictions under Iowa Code section 124.401A (2007) for the first time upon resentencing was presumptively vindictive in violation of the defendant's due process rights.
Note to Editors: News media are invited to attend the oral arguments and question-and-answer session. Court rules regarding expanded media coverage apply.
Proceedings will be streamed live from the Law School Web site at http://www.law.drake.edu/supremeCourtOralArguments.
The hearing at Drake is part of the Law School's 74th Annual Supreme Court Celebration, which also will include a breakfast before the hearing for students and justices of the Iowa Supreme Court. The justices will have lunch with Drake Law School faculty that day and hear the Iowa Supreme Court Scholar presentation.