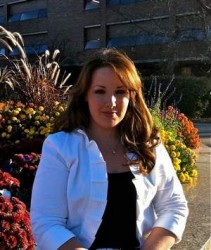 Christina Sibouih
Grants Specialist Christina Sibouih was recently featured in a Des Moines Register "Get to Know" article highlighting her work with Drake faculty and staff in finding, developing and submitting grant projects for external funding as part of the Sponsored Programs Administration staff.
"It's a rewarding position that allows me to support academic development in my home community while learning so much about a variety of academic fields and projects," Sibouih said in the article.
Sponsored Programs Administration (SPA) furthers the mission of the University by contributing to the enhancement of faculty and professional staff opportunities for creative and scholarly research development. Sibouih specializes in funding searches, proposal development, prep and review of applications, proposal submissions.
External support for sponsored research and other programs contributes substantially to undergraduate and graduate instruction and encourages the University to continue to develop research capabilities and provide training opportunities and technical assistance services.
Learn more about Sponsored Programs Administration at https://wwww.drake.edu/academics/grants/.