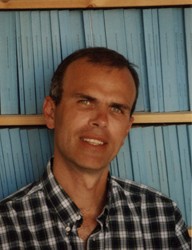 Paul Nihoul
Paul Nihoul, professor of law at the University of Louvain in Belgium, will deliver a lecture on the globalization of food production and the international politics of agriculture on Wednesday, March 23 at Drake University. The event, which is free and open to the public, will be held at 7 p.m. in Bulldog Theater, Olmsted Center, 2875 University Ave.
The lecture is titled "Debates over the Dinner Table: Transnational Food Regulation in the E.U. and the U.S." Nihoul will describe how countries have become mutually dependent for their food supplies, and how this phenomenon impacts our lives on a daily basis. He will also discuss how concepts of food safety, distribution and standards of production differ from nation to nation.
Nihoul, who serves as a Fulbright visiting scholar at the College of Law at American University in Washington, D.C., earned his master's degree from Harvard Law School. He has served as a law clerk at the European Court of Justice and as a counselor to the Belgian Minister of Finance.
The lecture is presented as part of The Principal Financial Center for Global Citizenship (CGC) spring 2011 "Global Perspectives" series at Drake. The series aims to bring international scholars from a variety of disciplinary backgrounds — including law, business, political science, sociology and agronomy — to the University.
"We have invited six international guests to campus to explore with faculty, students, staff and the community, points of view that expand beyond our U.S. borders," said CGC Interim Director Darcie Vandegrift. "This series is special because it allows us to step beyond usual U.S. perspectives on the rest of the world, truly advancing our ability to understand the world as global citizens."
Please visit the CGC website or more information on the series, including a schedule of upcoming events: drake.edu/international/cgc/