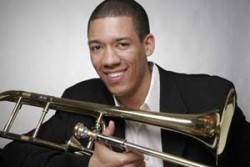 Weston Sprott
Weston Sprott, trombonist in the New York City Metropolitan Opera Orchestra, has been named Drake University's 2011 Skinner Family Trombone Guest Artist. Sprott will conduct a masterclass and perform a guest recital at the University.
"I think that all music students at Drake can appreciate Mr. Sprott's level of musicianship," said Roland Hart, a sophomore music and psychology major from Cedar Rapids, Iowa. "He's a great role model for young, aspiring musicians, regardless of what instrument we play."
The masterclass will be held on Monday, March 21, at 7 p.m. in the Monroe Recital Hall, Harmon Fine Arts Center, 25th St. and Carpenter Ave. The following evening, Sprott will perform a guest recital at 8 p.m. on the Jordan Stage in Sheslow Auditorium in Old Main, 2507 University Ave. Both events are free and open to the public.
Grady McGrannahan, Drake's assistant professor of trombone, selected Sprott for the honor.
"Weston Sprott is representative of a young and excitingly talented new generation of professional trombonists who are raising the bar for outstanding musical performance," McGrannahan said. "Thanks to the Skinner family's gift, I've been enabled to seek out some of the best trombonists in the profession today and invite them here."
Drake trombonist Kyle Gordon, a sophomore music education major from Harlan, Iowa, said that he was looking forward to participating in the masterclass.
"The opportunity to get to work with Mr. Sprott is wonderful — he is a phenomenal player and an incredible teacher," Gordon said. "Since coming to Drake, I have been amazed with the amount of professional involvement opportunities students receive to learn from accomplished musicians."
Sprott, who earned his bachelor's degree from The Curtis Institute of Music in Philadelphia, joined the Metropolitan Opera Orchestra in 2005. Previously, he served as principle trombone for the Pennsylvania Ballet Orchestra and Delaware Symphony Orchestra.
He has also performed with the Philadelphia Orchestra, Oslo Philharmonic, Atlanta Symphony and Chamber Orchestra of Philadelphia, and currently serves as teacher of trombone at the Mannes College at the New School for Music in New York City.
"He's a world-class musician," McGrannahan said. "Typically, we travel to places such as Chicago or New York to hear world-class performances, but in the case of a guest artist, we are bringing those talents to our students. In essence, we're bringing a little bit of New York to Des Moines, Iowa."
This program, which is in its first year, is made possible by the generous support of the Skinner family in memory of their father, Robert E. Skinner, Jr. Skinner received his bachelor's, master's and specialist in education degrees from Drake. As a music educator, he instilled in his students and his children the importance and value of musical performance and edification.
For more information, contact McGrannahan at 515-271-2976 or grady.mcgrannahan@drake.edu.
Weston Sprott, trombonist in the New York City Metropolitan Opera Orchestra, will conduct a masterclass and perform a guest recital at Drake University as the Skinner Family Trombone Guest Artist.

When/Where: The masterclass will be held on Monday, March 21, at 7 p.m. in the Monroe Recital Hall, Harmon Fine Arts Center, 2507 University Ave. The guest recital is at 8 p.m. on the Jordan Stage in Sheslow Auditorium in Old Main, 2507 University Ave.

Cost: Free, open to the public