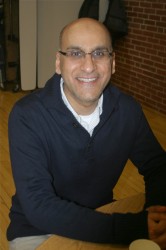 Mohammed Alshagawi
In Saudi Arabia, the economic participation of women remains the lowest in the world as a result of cultural, political and social barriers restricting women from entering the workforce. According to Mohammed Alshagawi, assistant professor of strategic management at King Faisal University in Hofuf, Saudi Arabia, entrepreneurship may provide opportunities for women to create their own jobs, despite such hindrances.
On Tuesday, March 22, Alshagawi will deliver a lecture at Drake titled "Saudi Women Entrepreneurs: Are They Still Standing in the Shadows?" The event, which is free and open to the public, will be held at 7 p.m. in Bulldog Theater, Olmsted Center, 2875 University Ave.
Alshagawi, a visiting Fulbright Scholar at Smith College in Massachusetts, earned his doctorate from the University of St. Andrews in Scotland. He received his master's degree from the University of Colorado, Denver, and his bachelor's degree from King Faisal University.
The lecture is presented as part of The Principal Financial Center for Global Citizenship (CGC) spring 2011 "Global Perspectives" series at Drake. The series aims to bring international scholars from a variety of disciplinary backgrounds — including law, business, political science, sociology and agronomy — to the University.
"We have invited six international guests to campus to explore with faculty, students, staff and the community points of view that expand beyond our U.S. borders," said CGC Interim Director Darcie Vandegrift. "This series is special because it allows us to step beyond usual U.S. perspectives on the rest of the world, truly advancing our ability to understand the world as global citizens."
For more information on the series, including a schedule of upcoming events, please visit the CGC spring 2011 website.
Dr. Mohammed Alshagawi: "Saudi Women Entrepreneurs: Are They Still Standing in Shadows?"

The Principal Financial Center for Global Citizenship Global Perspectives Series at Drake

When: 7 p.m. on Tuesday, March 22

Where: Bulldog Theater, Olmsted Center, 2875 University Ave.

Cost: Free, open to the public