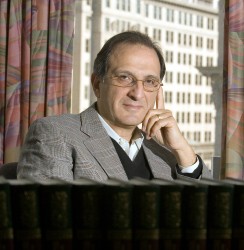 James Zogby
James Zogby, founder and president of the Arab Americans Institute and Zogby International polling and market research firm, aims to debunk the myths and biases surrounding the Arab world in his latest lecture, "Arab Voices." The free and open event will be held at Drake University on Tuesday, March 8 at 7 p.m. in Bulldog Theater, Olmsted Center, 2507 University Ave.
The lecture, inspired by his latest book with the same title, seeks to reframe the policy debates and perceived reality of the Arab world by introducing new, comprehensive polling data and bringing to light facts surrounding the identity Arab culture and society.
Zogby has devoted most of his life to improving the communication, perception and policies toward the Arab world. Whether he is working at Zogby International gathering and analyzing polling data, writing his internationally syndicated columns or contributing to other international media outlets, Zogby is continuously searching for ways to improve the Arab-U.S. relationship.
He serves on the national advisory board of the American Civil Liberties Union, The Human Rights Watch Board of Directors for the Middle East and North Africa and is a member of the Council on Foreign Relations. Since 2001, Zogby has hosted the award-winning "Viewpoint with James Zogby," on Abu Dhabi Television, LinkTV, Dish Network and DirectTV.
The lecture is part of the Spring Speaker and Film Series and is sponsored by Drake's Principal Financial Group Center for Global Citizenship and Drake Muslim Student Association. Community sponsors include the American Friends Service Committee — Middle East Peace Education Project, Catholic Peace Ministry, Iowa Chapter of Methodist Federation for Social Action, Progressive Coalition of Central Iowa, Des Moines Area Ecumenical Committee for Peace, Peace Committee of Plymouth Congregational Church, and Des Moines Chapter of Women's International League for Peace and Freedom.
For more information on Zogby and his book, visit www.aaiusa.org/pages/arab-voices. If you have questions pertaining to the event, please contact Dr. Mahmoud Hamad at mahmoud.hamad@drake.edu, or 515-271-2845.
Dr. James Zogby "Arab Voices" lecture

Drake's Principal Financial Group Center for Global Citizenship Spring Film and Lecture Series

When: Tuesday, March 8, 7 p.m.

Where: Bulldog Theater, Olmsted Center, 2507 University Ave.

Cost: Free

"" Kelsey B. Jones