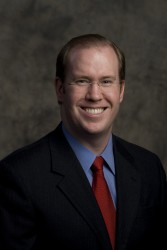 Paul Secord
Drake University Director of Development Paul Secord is among the Des Moines young professionals tapped for the Business Record's annual "Forty under 40" awards.
The
"Forty under 40" awards recognize 40 up-and-coming business and community
leaders under the age of 40. Candidates are judged on a combination of
success in their chosen field and community involvement.
Secord will be honored with others in the 2011 class at an awards presentation and networking event at the Downtown Des Moines Marriott on Tuesday, March 29. Tickets are $25 in advance or $30 at the door.
Register for the event and see a complete list of the 2011 class at BusinessRecord.com.