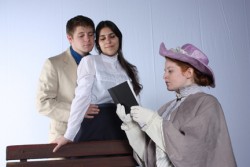 Luke Tourville, Moira Sutherland and April Culver star in Drake's production of "The Cherry Orchard."
After 23 years of directing theater productions at Drake, Clive Elliott, will direct his final show, "The Cherry Orchard," which closes with a matinee performance at 2 p.m. today (Sunday, March 6), in the Performing Arts Hall of the Harmon Fine Arts Center, 2505 Carpenter Ave.
While comedic in nature, "The Cherry Orchard," tells the tragic story of an aristocratic family returning to their estate before it is to be auctioned off. The family seems incapable of coming to terms with their potential loss.
The classic Russian play, written by Anton Chekov, was originally performed in 1904 and was the last play written by the famous playwright.
Taking place in Russia at the turn of the 20th century, the story addresses social and cultural changes during the time period and gives a glimpse into the global socio-economic forces at work during the era.
In order to connect with modern audiences, Drake's production utilizes a 2008 translation adapted by Tom Stoppard.
"I've always longed to do this show," Elliott said, "and Tom Stoppard's adaptation will help students better understand this important piece of theater."
Elliott turned to Drake President David Maxwell, a scholar of Russian language and literature, to help him correctly pronounce the names of the characters.
"Clive has had significant training in voice, a wonderful ear and a great sense of the sounds of language," Maxwell said. "I rarely had to ask him to repeat anything because he got it right on the first try almost every time."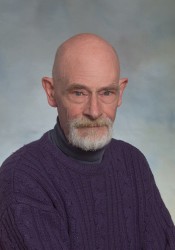 Clive Elliott

The Final Curtain Call
"The Cherry Orchard" also has a larger theme of change, which is a
fitting story for the transition in Drake's theater department with
Elliott's retirement.
"The play is literally about an end of an era, and it's also the end
of my Drake career," Elliott said. "I'm not losing anything, I'm
gaining something. I will enjoy this new world where I can make anything
I like."
Elliott was born and raised in northern Spain and later graduated
with honors from the Royal Academy of Dramatic Arts in London. Since
1957 he has worked in the professional theater as an actor, director,
writer, choreographer and teacher.
Elliott came to Iowa in 1981 at the invitation of the Iowa Arts
Council as its first International Artist on various Residency Programs
in the public school system throughout the state.
In 1982 he began his association with Drake University as a
returning guest director and performer. In 1990 he officially joined the
faculty as the Daniel B. Goldberg artist in residence.
His experiences in theater, film and television have provided a valuable resource to the Drake community for years.
"I am saddened for all of us at Drake that Clive is retiring,"
President Maxwell said. "He is one of the most remarkable people with
whom I've ever worked — he is gifted at his craft, immensely
knowledgeable about the history of the theater, and an absolute magician
at bringing out the best in our student actors."
"Clive's interpretations of the plays he has produced reflect a very
sophisticated and nuanced sense of the material and its possibilities.
Most of all, he has been an inspiration to us all, regardless of
academic field — so passionate about what he does that he infects
everyone around him with enthusiasm and aspiration."
Tickets for "The Cherry Orchard" are $6 for adults and $4 for
students and senior citizens. Tickets can be reserved by calling the
Drake Fine Arts Box Office at 515-271-3841.
Related:

Watch Clive Elliott's "In the Artist Studio" interview with KCCI's Mollie Cooney.

Watch a profile of Elliott that aired on FOX KDSM 17.