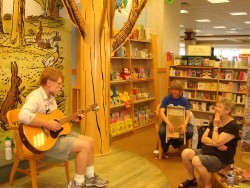 Two Rivers Story Spinners member Mike Zahn and graduate student Marti Maxon perform at a previous fundraiser at Barnes and Noble
Drake
University graduate students studying Adult Learning and Organizational
Performance through the School of Education will be involved in a book
fair fundraising event from 9 a.m. to 10 p.m. on Saturday, March 5 at
Barnes & Noble, 4550 University Ave, West Des Moines.
To reach a goal of 5,000 books, Barnes & Noble will donate a
portion of the proceeds from a sale every time a customer mentions "Forever Books for Kids" or the Ashcraft Project. New or gently used book donations will also be
accepted throughout the day. Members of Two River Story Spinners will
be in the children's section of the store, entertaining listeners with
story telling from 10 a.m. to 2 p.m.
"Forever Books for Kids" is a collaborative effort by Two Rivers Story Spinners,
Barnes & Noble, the Ashcraft Project and Drake graduate students.
The project collects new and gently used books for children visiting
loved ones at the Polk County Jail. Any child who visits the jail may
enjoy a book and then take it home.
Students in an Adult Leadership and Organizational Performance class
taught by Dr. Celeste Bremer initiated the program in 2009 with the
help of Polk County Jail staff members, Polk County Women Attorneys and
the Iowa State Bar Association. Books have since been provided by school
children, church groups, the Library of Congress Excess Book program
and fundraising efforts.
Barnes & Noble online customers can also support the Ashcraft Project by visiting bn.com/bookfairs from March 5 to March 10 and entering book fair ID#: 10422350 at checkout.