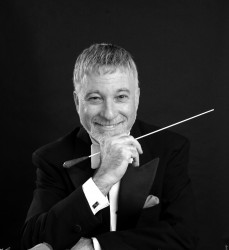 Joseph Giunta
The Drake Symphony Orchestra will perform its first concert of the 2011 spring semester on Tuesday, March 1.
The event, which is free and open to the public, will be held at 8 p.m. on the Jordan Stage in Sheslow Auditorium in Old Main, 2507 University Ave.
Maestro Joseph Giunta, music director of the Des Moines Symphony, will serve as guest conductor. Akira Mori, the ensemble's regular conductor and assistant professor of music at Drake, is ill.
The program will feature Jean Sibelius's Symphony No. 2 in D major, Antonio
Vivaldi's "La Primavera (Spring)" Concerto and Johann Sebastian Bach's Choral Prelude in E-flat Major.
Winners of the Drake Concerto Competition were originally scheduled to perform at this concert — instead, they will be featured at the Drake Symphony Orchestra's May 3 concert.