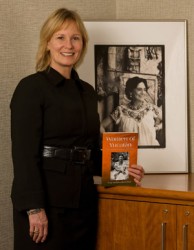 Drake alum and co-author Jann Freed will be reading from her book "Women of the Yucatan: Thirty Who Dared to Change Their World" on Thursday, March 10 at 7 p.m. in the Cowles Library Reading Room, 2725 University Ave.
Also in recognition of Women's History Month, a photography exhibit, "Daring to Be," will be on display in the James Collier Heritage Room in Cowles Library during the month of March. The exhibit focuses on thirty women from the Yucatan region. Both events are free and open to the public.
Freed, professor of business management at Central College in Pella and Iowa Sister States volunteer, along with George Ann Huck, professor emeria of Spanish at Central College, collaborated on the book. The two paired up to interview 30 women who have dared to challenge the gender inequalities set against them at birth in their native Mexico.
The idea for the book emerged during the semester Freed taught at Central's Yucatan program. After eight years in the making, the book was published in early December of 2009. The profiles, supplemented by photographs, describe the women's accomplishments and motivations as well as the obstacles they have confronted in their society.
Freed is in her 28th year at Central College and has authored numerous articles and co-authored several books. She received the Virgil S. Lagomarcino Laureate Award from Iowa State University in October 2008, awarded to recognize meritorious service and distinguished achievement in education. Freed is certified as an Academic Quality Improvement Program Systems Portfolio reviewer and as a Sage-ing Leader through the Sage-ing Guild. She also is a commissioner for the State Library of Iowa.
Huck has spent more than 35 years directing Central's study abroad program in Merida and teaching culture and literature in the Yucatan. She lives in Merida and remains involved in the struggle of Yucatan women.
A bilingual photography exhibit centering on women from the Yucatan has been displayed in more than 25 locations around the state of Iowa since 2000. Most of the profiled women had the opportunity to be present at an exhibit held in Merida, Yucatan in 2004.