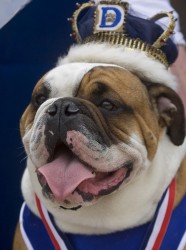 2010 Official Drake Relays mascot, Meatball, proudly wears his crown
When it comes to earning the title of Beautiful Bulldog, the canine competition can be fierce. This year, Drake hopes to make the contest fairer for all bulldogs by conducting registration differently than in years past.
The traditional registration process did not limit the number of bulldogs per household, but cut off the number of contest registrants at 50, rewarding the early birds and placing latecomers on a waiting list.
"This year, each household is allowed to register just one bulldog," said Dolph Pulliam, Drake's director of community outreach and development. "We expect about 100 registrants, all of which will be accepted until midnight on Monday, March 7."
"Then, we will hold a public drawing to select 50 lucky contestants and five alternates as official contenders for the crown in the 2011 Beautiful Bulldog Contest."
After the candidates are selected, 50 of the community's most attractive (and most wrinkly) bulldogs will vie against each other for the chance to serve as the official mascot for the 102nd running of the Drake Relays and appear in the 2011 Relays Parade.
The drawing, which is free and open to the public, will be held at noon on Thursday, March 10, in the atrium of Capital Square, 400 Locust St., in downtown Des Moines. Meatball, who holds the current Beautiful Bulldog title, will regally oversee the festivities from atop a throne.
"Our 2011 Beautiful Bulldog judges will attend the drawing as well," Pulliam said. "The five judges and Ryan and Kati Anderson, Meatball's owners, will be asked to draw names of lucky bulldog contestants and alternates. We hope the registered bulldogs will also attend."
Registration for the 2011 pageant has been open since Jan. 31. The contest's rules state that all competitors must be English bulldogs. In addition, costumes and outfits are encouraged in order to express the personal style of each competitor and catch the interest of the judges. As in years past, "beauty" is determined by the judges' subjective opinion.
Drake University's 32nd Annual Beautiful Bulldog Contest will begin at 10:45 a.m. on Monday, April 25, in Nollen Plaza, Third and Locust streets in downtown Des Moines.
For more information, contact Dolph Pulliam at 515-271-3084 or dolph.pulliam@drake.edu.


Drawing to select contestants and alternates for the Beautiful Bulldog Contest

Meatball, the official mascot of the 2010 Drake Relays, will oversee a drawing to select 50 contestants and five alternates vying to become the official mascot for the 2011 Relays.

When: noon, Thursday, March 10

Where: Atrium of Capital Square, 400 Locust St., Des Moines

Cost: Free and open to the public

For more information: Contact Dolph Pulliam at 515-271-3084 or dolph.pulliam@drake.edu
32nd Annual Beautiful Bulldog Contest

Fifty English bulldogs will compete to serve as the official mascot of the 2011 Drake Relays, which will take place April 28-30 at Drake Stadium.

When: 10:45 a.m. Monday, April 25, with judging from 10:45 a.m. to noon, followed by the pageant from noon to 1 p.m.

Where: Nollen Plaza, Third and Locust streets Des Moines

Cost: Free and open to the public

For more information: Contact Dolph Pulliam at 515-271-3084 or dolph.pulliam@drake.edu
"" Emily Brown