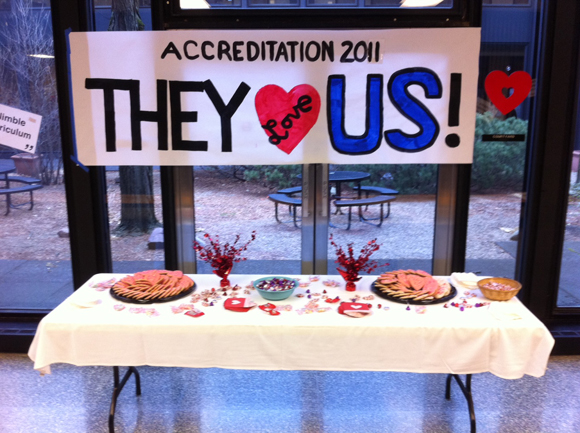 The Drake University School of Journalism and Mass Communication received high marks during the Accrediting Council on Education in Journalism and Mass Communications Accreditation Site Team visit Feb. 14-15. The Site Team recommended accreditation for the school.
That recommendation will be taken to the Accrediting Committee March 26-27 in Chicago. The Accrediting Council will make a final decision April 29-30 in Portland.
Read more in today's Times-Delphic article.
Read the full report from the site visit team.
Summary of the site visit team report:
The School has several strengths:
Focused mission and healthy educational environment – built upon mutual faculty-student respect and high expectations.
Bright, committed and engaged students who take their courses, cocurricular activities and internships seriously – and who possess great pride in the education they receive.
Hard-working faculty members dedicated to preparing students for communications positions and to be contributing members of society.
Strong sequences across the board, including one of the best magazine programs in the country.
Unwavering commitment to instruction in the fundamentals and evolving media.
Nimble curriculum that focuses on specialties while ensuring multiplatform competencies.
Effective and loyal administrative team.
Exemplary relationships with alumni and external constituents.
Exceptional public service to the professions and community.
The School has challenges:
It needs to continue to build upon and enhance its scholarly and creative productivity.
It needs to make a stronger, more concerted effort to ensure that its students are exposed to instructors who are racial or ethnic minorities.
It needs to find sufficient financial resources to transform its existing television studio.