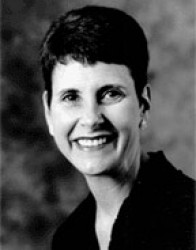 Aimee Beckmann-Collier
The Drake University Choir's Benefit Concert at 8 p.m. Saturday, Feb.
19, will feature the Drake's premier touring choir as a whole and
individual students from the ensemble.
They'll perform a wide variety of music, from Broadway musicals and
jazz to pop, opera and original compositions, all under the direction of Aimee Beckmann-Collier, director of choral studies at Drake.
By purchasing a ticket
for this concert, you will directly support the choir's May 2012 European
tour, which is funded only by donations and student fundraising
activities.
The performance will take place on the Jordan Stage in Sheslow
Auditorium, Old Main, 2507 University Ave. Tickets are $5 for students,
$25 for non-students.
Tickets may be purchased in advance by calling Tricia Atterberg at
515-271-2755. Tickets also will be available at the door.
What: Drake Choir Benefit Concert

When: Saturday, Feb. 19, 8 p.m.

Where: Sheslow Auditorium, 2507 University Ave.

Cost: $5 students, $25 for non-students

Tickets: tricia.atterberg@drake.edu, 515-271-2755