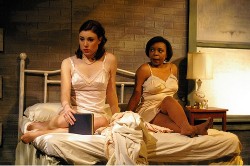 Amanda Mullin and Makha Mthembu act out a scene in "The Beebo Brinker Chronicles"
StageWest Theater Company's new show, "The Beebo Brinker Chronicles", opens Friday, Feb. 18 at the Des Moines Civic Center, and will feature Drake students, graduates and faculty both on stage and behind the curtain.
The play, based on Ann Bannon's feminist pulp fiction novels of the 1950s and 1960s, chronicles the lives and loves of a web of friends in Greenwich Village.
Tackling the issues of gender, identity and human sexuality, the series of books evolved into a popular theater production focusing on the stories of Beth and Laura, secret lovers in college who still long for each other. Before reuniting, the women find themselves entangled in a love web spun by Beebo Brinker, "a butch denizen of the underground bar scene."
Karla Kash, show director and Drake assistant professor of theater arts, thinks the topic is as applicable today as it was 60 years ago.
"This piece is a glimpse into the struggles of women of the 1950's and early 1960's coming to terms with their sexuality and figuring out how to live in a society where it was illegal to be a homosexual," Kash said. "This is a very relevant topic with the current debates in Iowa over the legality of same-sex marriages."
Two current students, Ben Raanan, a senior directing major, and Makha Mthembu, a senior acting major, fill large roles in this show.
Raanan acts as assistant director to Kash, and Mthembu plays the role of Marcie, the temporary roommate and love interest to one of the main characters, Laura.
Recent graduates, Daniel Haymes and Kelsey Hirth, also contribute to the production.
Haymes plays the role of Charlie, the husband of one of the women struggling with her sexual identity, and Hirth works behind the scenes as costume designer.
The production runs from Feb. 18 to 27 at the Des Moines Civic Center and begins at 7:30 p.m. Wednesday through Saturday and 3 p.m. on Sunday.
Advance tickets are available through the Civic Center ticket office, 1-800-745-3000, or at www.civiccenter.org. Visit the StageWest Theater Company website for more information.
WHAT: StageWest Theater Company's production of Beebo Brinker Chronicles

WHEN: Friday, Feb. 18 to Sunday, Feb. 27 (Wed-Sat at 7:30 p.m., Sun at 3 p.m.)

WHERE: Des Moines Civic Center

TICKETS: 1.800-745-3000 or http://www.civiccenter.org/.