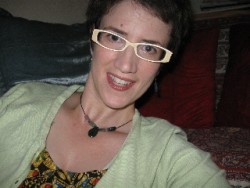 Joan Faber McAlister
Joan Faber McAlister, assistant professor of rhetoric and communication studies, will give a lecture based on her study of two South African prison museums in the second presentation of the spring 2011 Drake Center for the Humanities Colloquium Series.
McAlister will present "Intimate Artifacts and Aesthetic Agents: Rhetorics of Preservation and Transformation in Two South African Prison Museums" at 3:30 p.m. Friday, Feb. 18, in the Honors Lounge of Medbury Hall, 2730 Forest Ave.
McAlister's study of South African prison museums explores the political and ethical implications of two strategies for representing national memory.
One, at Robben Island, she calls preservationist; the other, at Constitution Hill, she calls transformationist.
Using visual and spatial analysis of how viewers are positioned and former inmates depicted, she argues that the preservationist approach provides a very limited mode of political agency while the transformationist strategy offers a dynamic portrait of the political agency of former prisoners.
She concludes that the latter strategy is better suited to the political aims and ethical commitments that post-apartheid South Africa has officially embraced.
The University's Center for the Humanities sponsors the ongoing colloquium series that features faculty members whose work involves questions and topics relevant to the humanities.
The series will continue with the following presentations, which will take place from 3:30 to 5 p.m. on Fridays in the Medbury Honors Lounge.

March 25– Dan Alexander

,

associate professor of mathematics, "Who Owns an Idea? The Priority Dispute between Pierre Fatou and Gaston Julia"

April 8 –Michael Haedicke

, assistant professor of culture and society, "Shopping for Social Change: Understanding Political Consumerism in a Cross-National Perspective"

April 22 — Carol Spaulding-Kruse

, associate professor of English, and Jennifer Perrine, assistant professor of English, "Imagination as Inquiry: The Role of Research in Creative Writing"
For more information about the series, contact Joseph Schneider, director of the Drake Center for the Humanities, at 515-271-2158 or joseph.schneider@drake.edu.