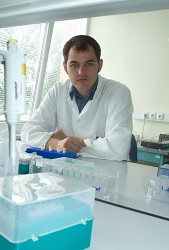 Gintaras Brazauskas.
Gintaras Brazauskas, senior scientist at the Lithuanian Research Centre for Agriculture and Forestry, will deliver a lecture on the "Development of DNA Markers for Cellulosic Ethanol Production" at Drake University on Friday, Feb. 18.
The lecture, which is free and open to the public, will be held at 12:30 p.m. in room 206 of Olin Hall, 1344 27th St.
Brazauskas, a visiting Fulbright Scholar at Iowa State University, will discuss how the responsible production and utilization of biofuels may provide a potential alternative to petroleum, which may alleviate global political instability and environmental issues that arise from reliance on fossil fuels.
He will also address recent advances in plant genetic engineering and molecular breeding technologies, which may reduce the costs of producing ethanol.
The lecture is co-sponsored by The Principal Financial Group Center for Global Citizenship and Drake University's Science Collaborative Institute (DUSCI). The institute's goal is to promote, support and coordinate efforts to fund undergraduate research in math and science. A list of upcoming DUSCI events can be found online.
For more information, contact Maria Bohorquez at maria.bohorquez@drake.edu or 515-271-2595.