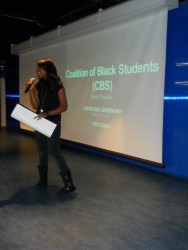 Tenneh Massaquoi welcomes students to the Black Tuesday Unveiling Ceremony
The Coalition of Black Students (CBS) kicked off Black History Month on Tuesday night with a peace march and Black Tuesday Unveiling Ceremony.
At the ceremony, CBS highlighted all the events planned throughout February and unveiled the organization's new tagline, "You don't have to be us to befriend us."
Lawrence Crawford, CBS president and senior public relations major from Kansas City, Mo., said the ceremony and march were informative but also fun with music, food and socializing worked into the agenda.
"We want those who attend our upcoming events to feel welcomed, informed and part of the process with Drake's Black History Month happenings," Crawford said. "This month is no longer only for and about black people, but rather, a period that's important for all people to celebrate and reflect upon so we can work together to ensure a more inclusive and respectful future."
All events are free and open to the Drake community:
Thursday, Feb. 10

* Haunted History: Take a Walk on the Black Side, 6 p.m.

With this use of silent actors, this interactive exhibit aims to display the events and experiences of the trans-Atlantic slave trade. The event will use student-actors, set designs and audio-visual effects to provide participants with the real emotion of the time.
Where: Upper Olmsted Center
Sunday, Feb. 12

* Black on Black Banquet, 7 p.m.

Commemorating the pivotal role black student organizations play on our college campuses today, this event reminds us of the economic, educational, political and societal barriers these groups have overcome.
Where: Parents Hall, Olmsted Center
Saturday, Feb. 19

* Catwalks For a Cause: (R)evolution to Fight with Fashion, 6:30 p.m.

This annual fashion show highlights the various styles of fashion of historical influence in industry fads and trends. Underrepresented model shapes, sizes, colors, heights and weights will also be celebrated.
Where: Upper Olmsted Center
Sunday, Feb. 20

* Mama's Cookin', 3 p.m.

All you can eat "soul food" feast for members of the Drake community to enjoy.
Where: Black Cultural Center
For more information on any of these events, contact Crawford at lawrence.crawford@drake.edu.