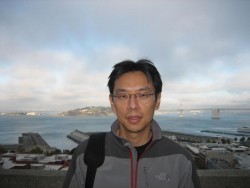 Michael Chiang
Michael Chiang, assistant professor of history at Drake University, will lead off the Drake Center for the Humanities Colloquium Series for the spring semester with a presentation on Friday, Feb. 4.
The presentation, which is free and open to the public, is titled "Negotiating Boundaries: The Politics of Field Administration in Qing China." It will start at 3:30 p.m. in the Honors Lounge of Medbury Hall, 2730 Forest Ave.
Chiang joined the Drake faculty in 2007 after a visiting position at Mount Holyoke College. He teaches world and East Asian history, and his research focuses on political and institutional change in 18th century China.
In his talk, he will examine post designations in the Qing dynasty (1636-1912), a system that classified local territorial units according to various physiographic, military and economic criteria. This system also determined the assignment of resources and officials within the Chinese empire.
The Humanities Colloquium Series features Drake faculty members who offer insights into their current research in the humanities. The series will continue with the following presentations, which will take place from 3:30 to 5 p.m. on Fridays in the Medbury Honors Lounge.
Feb. 18 — Joan Faber McAlister

, assistant professor of rhetoric, "Intimate Artifacts and Aesthetic Agents: Rhetorics of Preservation and Transformation in Two South African Prison Museums"

March 25

— Dan Alexander

, associate professor of mathematics, "Who Owns an Idea? The Priority Dispute between Pierre Fatou and Gaston Julia"

April 8 —

Michael Haedicke

, assistant professor of culture and society, "Shopping for Social Change: Understanding Political Consumerism in a Cross-National Perspective"

April 22 — Carol Spaulding-Kruse

, associate professor of English, and

Jennifer Perrine

, assistant professor of English, "Imagination as Inquiry: The Role of Research in Creative Writing"
For more information about the series, contact Joseph Schneider, director of the Drake Center for the Humanities, at 515-271-2158 or joseph.schneider@drake.edu.