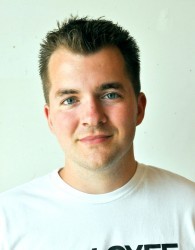 Mike Draper
Drake University and the Greater Des Moines Partnership invite alumni
and friends to attend the spring Let's DU Lunch speaker series, which
will be held at a new location — the Des Moines Club on the 34th floor
of the Ruan Building, 666 Grand Ave.
The series begins Wednesday, Feb. 2, with Mike Draper, founder and
owner of RAYGUN, who will discuss the entrepreneurial spirit. Draper
briefly attended Drake before leaving Iowa in 2000 to attend the
University of Pennsylvania, where he studied history. After graduation,
he began selling "Not Penn State" T-shirts on campus, which lead him to
create an online storefront and expand his line to other universities on
the East Coast.
By 2005, he returned to Des Moines to open his own screen-printing
shop, RAYGUN. Since then, RAYGUN has added an Iowa City site, as well as
a custom printing and design firm spinoff, 8/7 CENTRAL. RAYGUN now has
more than 30 employees and reports sales of more than $2 million.
The series continues throughout the spring with the following presentations:
Wednesday, March 2

—
Carol Giglione, GR'05, president of the board of directors of the Animal
Rescue League of Iowa, who will discuss animal advocacy.
Wednesday, April 6

—
Martha Willits, FA'69, GR'72,'97, president of the Greater Des Moines
Partnership, who will discuss advancing central Iowa.All of the
luncheons begin with networking at 11:30 a.m., followed by the lecture
and meal at noon.
Each luncheon costs $17 while the entire series costs $42, only $14
per event. There is a special young professional rate of $13 per
luncheon for those who are 35 and under.
To RSVP, visit http://www.alumni.drake.edu/letsdulunch2011. For more information, contact the Office of Alumni and Parent Relations at 515-271-3147.