In October, Peter Blink, a third-year law student, was one of two law students from Iowa to receive the American Board of Trial Advocates' (ABOTA) Outstanding Trial Advocate award.
Blink began interning at the Polk County Attorney's Office this past summer, where he gained a passion for trial advocacy and prosecution.
"I was very surprised even to be considered for this award," Blink said. "Knowing who else was nominated, I am extremely humbled to have actually won."
The award is presented annually to students within each state chapter who demonstrate the highest level of trial advocacy within the classroom, courthouse and at trial advocacy events. The Iowa chapter of ABOTA contacted local lawyers and judges who have worked with the nominated law students to evaluate their performance.
One Des Moines area judge praised Blink's passion in the courtroom and dedication to the practice of law as reasons why he deserved the award.
"I highly endorse his nomination for this award," the judge said. "Not only was Peter prepared and skilled in presenting his case, but it was clear he completely enjoys the courtroom process and has an easy manner in front of the jury."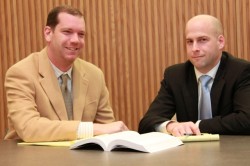 Peter Blink and Kevin Bell confer about prosecuting a burglary case.
Blink continued to excel in the courtroom as he and fellow law student Kevin Bell won a felony jury trial last fall in which a defendant was convicted of burglary in the third degree. Bell, a third-year law student, also serves as president of the Student Bar Association and is co-owner of Drake's official bulldog mascot, Porterhouse.
Blink credits Drake's curriculum for his recent successes.
"The amount of hands-on work the school lets you do through the clinic and internships is second to none," Blink said. "The real world trial experience is immeasurable and allows students to come out of law school without the anxiety of appearing in court."
Blink hopes to find a job working in a district or county attorney's office after he graduates in May.