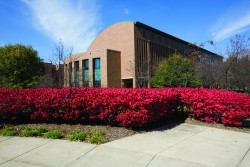 A new program will bring students to Opperman Hall and Law Library next summer.
Drake University Law School is one of two U.S. law schools selected competitively to host a 2011 Summer Regional Institute for the Council on Legal Education Opportunities (CLEO).
CLEO's six-week pre-law institute gives minority and economically disadvantaged students the opportunity to explore their interest in a legal education and develop the skills needed to succeed in law school.
The selection of Drake "is a reflection of our innovative curriculum and our long-standing commitment to a diverse and inclusive community," said Law School Dean Allan Vestal. "The successful CLEO proposal reflects a number of the strengths of our full curriculum, including intensive writing and conferences, small group class experiences, our innovative trial practicum and involvement with lawyers and judges."
Drake Law School and the second host, Thomas Jefferson School of Law in San Diego, were chosen for the 2011 institute through a competitive process in which the national organization evaluated competing schools' proposals and their ability to present an innovative and effective program.
Some 40 students from across the nation will participate in the program
at Drake next summer. Drake Law School faculty members will teach the institute courses, and will offer four spots in the entering class of 2011 to qualified students who complete the institute.
"We are pleased to have been selected to host the CLEO summer institute," Dean Vestal said, "and we are looking forward to welcoming the CLEO students to Drake and Des Moines."