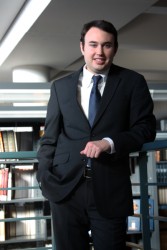 Sam Hodge
Sam Hodge believes the Drake Law School's commitment to practical experience helped put his application for a job in the Bronx, N.Y. district attorney office on top of the pile. He was hired from a pool of roughly 2,000 applicants for one of four open positions with the D.A. office before he has passed the bar exam.
Hodge, a Blue Springs, Mo. native, plans to graduate in May. He initially chose Drake Law School because of its well-respected legal clinics and its location in a state capital.
While at Drake, Hodge relished his participation in the Polk County Prosecutor Internship. "Students are given an incredible level or responsibility in the internship," he said. "I had a great experience working on cases from beginning to end."
Hodge knew he wanted to work as a prosecutor, and worked with Trisha Fillbach, director of career services, to find opportunities and connect him with an alumnus working in the Bronx.
"Sam contacted me at the beginning of the year with what he wanted to do and the offices he was investigating — the Bronx office being one of them," Fillbach said. "He really took advantage of the services that are offered here and kept coming back to fine-tune things. I think the fact that he was so goal-oriented helped quite a bit."
Hodge focused his search on major metropolitan areas, where it's possible to get a job before becoming licensed. "The premiere place in the country to be a DA is New York City," Hodge said. "There's crime, and so you've got a steady job. I threw my hat in the ring not knowing anyone in the office and not being from New York, so I wasn't sure it would go anywhere."
He flew to New York for two rounds of interviews and was offered a job the day after his second-round interview.
"I can't say for certain why they decided to interview me, but I think that it's fairly rare across the country that students are permitted to actually do full trials with juries," Hodge said. He thinks true trial experience coupled with success on the mock trial team helped set him apart. He considers Professor Maura Strassberg a mentor in the application process and said adjunct professor Jeff Noble's trial advocacy course was instrumental in preparing him for the Bronx D.A. interview.
"Noble restructured how I thought about doing trial advocacy," Hodge said. "It's how you conceptualize each role in a trial. Somebody who might not know a lot about a trial might think the opening and closing are the end-all and be-all. After taking his class, I had a more complete view of how to be a successful trial attorney."
Hodge knows working in the Big Apple won't be all glamor. "In the beginning of the position, I'll do a rotation and get a feel for how each part of the whole works in the office," he said.
"I'll be doing what I do at Polk County, which is managing cases from beginning to end, interviewing police officers, talking to victims, writing and arguing briefs, taking cases to trial. I have a feeling every day will be interesting there."