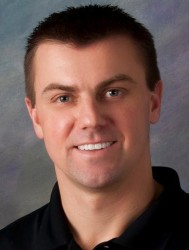 Jack Whitver
Drake Law student Jack Whitver won't be participating in that spring semester internship in the Iowa House of Representatives after all. Whitver, a second-year law student, will instead take a seat in the Iowa Senate.
He was sworn into office on Jan. 25, after winning a special election to fill a seat vacated by Republican Larry Noble, who stepped down in December to become the director of the Iowa Department of Public Safety. Whitver represents District 35, which covers the northern portion of Polk County.
"I didn't find out I was going to run until the middle of finals," said Whitver, who requested a leave of absence for the spring semester. "I finished finals, ran for Senate and won before the next semester started. From financial aid to holding my classes, Drake has been very good at working with me. I don't know if every school would do that."
Whitver, a Republican, said he's always been interested in politics, and that a law degree will give him a special perspective in the Senate.
"I realized that there's actually very few lawyers down here in the legislature right now," he said. "I think (having studied law) helps you look at things in a different way, like understanding language in the bills."
The Des Moines Register reported Whitver was welcomed into the Senate chamber with a standing ovation from his colleagues-to-be of both parties following his election.