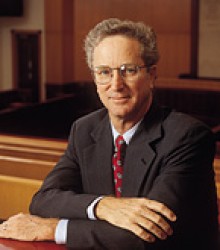 James Adams
Faculty gathered in early December to celebrate the retirement of James Adams, the Ellis and Nelle Levitt distinguished professor of law. They reflected on his 36-year career at Drake and commented on his contributions as an outstanding teacher, distinguished scholar and accomplished fly fisherman.
Associate Dean Andrea Charlow wore a cowboy hat to the reception in the Quiet Lounge and played a recording of John Denver's "Rocky Mountain High." She presented Adams with a fly-tying kit and an official Drake fly – a blue-and-white fly attached to a tag that said D+.
She also gave him a customized note card featuring a
Photoshopped photo with Adams' head on the body of a man holding a big fish. "I knew Jim would not like anything too serious," Charlow
said.
Adams joined Drake Law School in 1974 after practicing corporate law in New York City and criminal law with the U.S. Attorney's Office in Washington, D.C.
His teaching and scholarship have focused on criminal practice and procedure, evidence and trial advocacy. Among his publications are the "Prosecutor's Manual for Arrest, Search and Seizure" and "Pretrial Motions in Criminal Prosecutions."
He has served on the faculty of the National Institute of Trial Advocacy at Northwestern University Law School and was a visiting lecturer at law schools in France, the United Kingdom and Canada.
At Drake, Adams was the faculty representative to the NCAA and chair of two dean searches. He received the University's Burlington Northern Teaching Award in 1990-91 and was selected four times by law students as the Leland Forrest Outstanding Professor of the Year.
Adams said his teaching philosophy has been to develop lawyers who are both practical and theoretical.
When asked to describe the most important concept he conveyed to his students, Adams said it was to "Teach students to become zealous advocates for their clients without compromising their own integrity — without ethical violations. You have to know when there are times to draw the line between what the issues are and what your evidence is. You don't owe your integrity to your client."
"It was my honor to have Professor Adams for my Evidence, Criminal Procedure and Motion to Suppress classes," said Kevin Bell, president of the Student Bar Association. "His willingness to push me regarding my legal arguments and conclusions has certainly strengthened my abilities as a legal advocate.
"I found that under his tough Irish veneer, he was a kind man who tried to instill in all his students a passion for criminal law infused with a great respect for constitutional rights," Bell added. "What I learned from Professor Adams has been invaluable during my time interning at the Polk County Attorney's Office. He has been a great asset to this Law School and will be sorely missed. I, along with all the students, wish him all the best in his retirement."
Adams was much appreciated by alumni as well as current students.
"Professor Adams made students believe that they could succeed while still challenging them to strive to be better," said Bianca Bentzin, LW'94, who works as Chief Prosecutor for the City of Austin Law Department. "To turn a law student into a lawyer law professors should teach the fundamentals of the law and help students learn to question the beliefs and opinions they brought with them. For me, Professor Adams met and exceeded this responsibility. He believed in me and my ability to become a lawyer, inspired me to question my previously held ideas about the world to teach me to analyze cases from different viewpoints, and gave me valuable opportunities to practice what I was learning."
After the fall semester ended, Adams and his wife, Julia Johnston, spent a week in Hawaii celebrating his retirement. He is looking forward to caring for his grandchildren this summer in Montana, where he plans to take hiking and fishing trips.