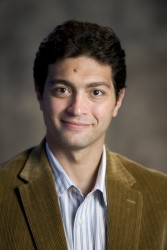 Mamhoud Hamad
Mahmoud Hamad, assistant professor of politics at Drake University, will discuss "Democracy in the Middle East: Reality or a Mirage?" from noon to 1 p.m. Tuesday, Feb. 1, at the Central Des Moines Public Library, 1000 Grand Ave.
The event, which is free and open to the public, is part of the Pioneer-Iowa Center for International Understanding Dialogue Series. The series engages Des Moines' public and business professionals in dialogue on global issues and Iowa's personal and organizational connections abroad.
The Middle East is one of the last bastions of authoritarianism in an increasingly democratic universe, Hamad said.
"While nations in Asia, Latin America and Eastern Europe have changed dramatically, aging Middle Eastern dictators who seemed threatened a few years ago are utilizing more oppressive measures to control their societies and polities, with very limited pressure from the West," he added.
"This raises many questions: Why did the waves of democratization escape the shores of the Mediterranean, the Red Sea and the Persian Gulf? What is the political future of this pivotal region? Is it in the United States' interest to keep shoring up the authoritarian regimes in Cairo, Riyadh, Amman and Rabat?"
Hamad joined the Drake faculty in the fall of 2008. He received his Ph.D. from the Department of Political Science at the University of Utah and his B.A. and M.A. in political science from Cairo University, Egypt.
His teaching and research interests focus on Middle East politics, comparative judicial politics, civil-military relations as well as religion and politics. Prior to coming to Des Moines, Hamad taught at Cairo University, Brigham Young University and the University of Utah.
He was a Fulbright scholar twice during his graduate study and in the summer 2008 he attended Brandeis University's Summer Institute for Israel Studies. His current research projects focus on the judicialization of politics in the Middle East.
For more information about the event and the dialogue series, visit the ICIU website.