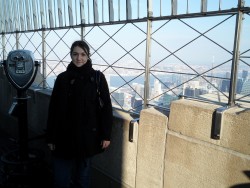 Coralie Martin
International student Coralie Martin, who is studying at Drake Law School as part of an exchange program, has developed a two-part independent research project analyzing how juvenile delinquents are treated under the United States and French judicial systems.
A student from the University of Nantes in France, Martin spent the fall 2010 semester at Drake studying how the evolution of juvenile responsibility and parental liability have effected the treatment of minors who have committed crimes, including the degrees of their punishment.
"This a current topic in France as the juvenile law is about to be totally reformed by the government," Martin said. "The first law dealing with this issue was enacted in 1945, and over the ensuing years legislation has enacted new measures and new laws. Now, the French juvenile law is very complicated and even judges dealing with juvenile cases are often lost when they have to decide which sanction or educational measure will apply in a particular case — reform is obviously necessary."
Over the course of the spring 2011 semester, Martin will conduct research on penalties enacted in the United States and how American policies compare to the French system of juvenile punishment.
"The United States system is very different — young American offenders may be tried as adults and face adult punishments whereas in France we do not do that," Martin said. "For the second part of my project, I'll focus on the reasons why the American system decides to waive the juvenile court for the adult court in some cases, the consequences of this practice and why in France this system would be criticized."
Martin has conducted research at Polk County Courthouse Juvenile District. She also has had several meetings with Drake Professor of Law and Associate Dean Andrea Charlow.
"Dean Charlow helped me find information and has led me in the right direction when she thought I was lost," Martin said. "She really helped me improve this project."
Martin, who plans to graduate from the University of Nantes in June 2011, is specializing in criminal and juvenile law, and she plans to work in child protection services or juvenile facilities for delinquent minors.
Drake has sustained a decade-long partnership with the University of Nantes that fosters a student-exchange program enabling students to study comparative and international law while studying abroad.